Monster's Ball (11-Nov-2001)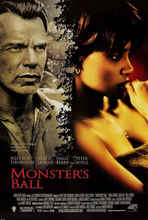 Director: Marc Forster
Writers: Milo Addica; Will Rokos
Music Composed by: Asche and Spencer
Producer: Lee Daniels
Keywords: Drama, Prison, Death Row




A prejudiced prison guard's budding romance with the African-American wife of a recently-executed inmate leads to a re-examination of long-held attitudes.
ABSTRACT
Hank Grotowski, a racist Caucasian man working alongside son Sonny as a corrections officer in a Georgia state prison, presides over the grisly execution of African-American murderer Lawrence Musgrove, beating his son shortly thereafter for vomiting during Lawrence's walk to the electric chair as part of a confrontation ending in Sonny's suicide. Hank soon pursues a romance with Lawrence's impoverished widow Leticia, entering into a peculiar relationship with a chance at transcending his long-standing biases.
| Name | Occupation | Birth | Death | Known for |
| --- | --- | --- | --- | --- |
| Halle Berry | Actor | 14-Aug-1966 | | Monster's Ball |
| Peter Boyle | Actor | 18-Oct-1935 | 12-Dec-2006 | Young Frankenstein |
| Mos Def | Rapper | 11-Dec-1973 | | Black On Both Sides |
| James Haven | Actor | 11-May-1973 | | Brother of Angelina Jolie |
| Heath Ledger | Actor | 4-Apr-1979 | 22-Jan-2008 | Brokeback Mountain |
| Puff Daddy | Music Producer | 4-Nov-1969 | | Can't Nobody Hold Me Down |
| Billy Bob Thornton | Actor | 4-Aug-1955 | | Sling Blade |
CAST
Billy Bob Thornton
... Hank Grotowski
Heath Ledger
... Sonny Grotowski
Halle Berry
... Leticia Musgrove
Puff Daddy
... Lawrence Musgrove
Mos Def
... Ryrus Cooper
Will Rokos
... Warden Velesco
Milo Addica
... Tommy Roulaine
Coronji Calhoun
... Tyrell Musgrove
Peter Boyle
... Buck Grotowski
Taylor Simpson
... Lucille
Gabrielle Witcher
... Betty
Amber Rules
... Vera
Charles Cowan, Jr.
... Willie Cooper
Taylor LaGrange
... Darryl Cooper
Anthony Bean
... Dappa Smith
Francine Segal
... Georgia Ann Paynes
John McConnell
... Harvey Shoonmaker
Marcus Lyle Brown
... Phil Huggins
Leah Loftin
... Booter
Larry Lee
... Co #1
Troy Poret
... Co #2
Paul Smith
... Co #3
Marshall Cain
... Correction Officer
Anthony Michael Frederick
... Billy
John Wilmot
... Minister
Dennis Clements
... Clements
Stephanie Claire
... Nurse
James Haven
... Hospital Guard
Ritchie Montgomery
... Detective
Clara Infinity Daniels
... Maggie Cooper
Carol Sutton
... Ms. Guillermo
Bernard Johnson
... Deputy Jones
REVIEWS
Review by Jo Sutton (posted on 2-Jun-2008)
An emotional, engrossing film. I think its a part love story, part thriller. The late Heath Ledger gives a moving performance as the son of a racist, but the acting honours go to Halle Berry and Billy Bob Thornton, the latter giving one of his best performances as a racist who slowly falls for Halle Berry's character, not realising that he is responsible for her husband's death. He goes to the same diner and orders the same thing every day and I found myself feeling sorry for his loneliness but hating him for his racism. One of my favourite films.
---
Do you know something we don't?
Submit a correction or make a comment about this profile

Copyright ©2019 Soylent Communications