Prince of Foxes (9-Nov-1949)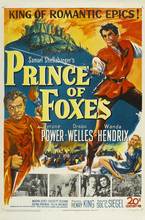 Director: Henry King
Writer: Milton Krims
From novel by: Samuel Shellabarger
Keywords: Drama




Andrea Orsini, minion of Cesare Borgia, is sent on a mission to undermine Cittą del Monte, to prepare it for subsequent conquest. But he finds Count Verano's beautiful young wife captivating, falling in love with her and betraying Borgia. A tale of Machiavellian intrigue; the entire country of Andorra was rented by the producer to serve as the Cittą. Who could do Borgia better than Orson Welles?
Borgia's description of the man he needs: "who but a man as quick at deceit as a fox? He must have the grace of a dancer, the wrist of an assassin. He must have little regard for good faith, yet by his astuteness be able to confuse men's minds... He must charm as a snake charms birds, yet he must make no friends, except for those who may be of use to him, and for the same reason although he may make use of love, he must not love."
| Name | Occupation | Birth | Death | Known for |
| --- | --- | --- | --- | --- |
| Felix Aylmer | Actor | 21-Feb-1889 | 2-Sep-1979 | Henry V |
| Marina Berti | Actor | 29-Sep-1924 | 29-Oct-2002 | La califfa |
| Wanda Hendrix | Actor | 3-Nov-1928 | 1-Feb-1981 | Actress-wife of Audie Murphy |
| Katina Paxinou | Actor | 17-Dec-1900 | 22-Feb-1973 | For Whom the Bell Tolls |
| Tyrone Power | Actor | 5-May-1913 | 15-Nov-1958 | Witness for the Prosecution |
| Everett Sloane | Actor | 1-Oct-1909 | 6-Aug-1965 | Patterns |
| Orson Welles | Actor | 6-May-1915 | 10-Oct-1985 | Citizen Kane |
CAST
REVIEWS
Review by Skot Garrick (posted on 11-Feb-2005)
Orson Welles as Cesare Borgia. That should get anyone's attention. Who would think that face man Tyrone Power could hold his own against Orson? He does it here. A sly, cunning story of double dealing, plots, seductions for the purpose of political overthrow, murder, and a pretty riveting eye-gouging scene for the day. Filmed on location in Italy, and boy does it show. In this tale of Italy in the 1500's, we see a cold blooded assasin who still follows a code of honor, as colorfully portrayed by Everett Sloan. The dialogue might seem stilted at first, but once you're accustomed to it, it helps to add a layer of period authenticity, and you feel that in this day and time, noble people probably talked this way. And the whole story works a deliberate course to a delicious revenge. Not to be missed.
---
Do you know something we don't?
Submit a correction or make a comment about this profile

Copyright ©2019 Soylent Communications