The Elephant Man (3-Oct-1980)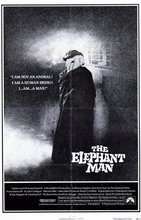 Director: David Lynch
Writers: Eric Bergren; Christopher De Vore; David Lynch
Based on a book by: Ashley Montagu; Sir Frederick Treves (various books)
Music: John Morris
Producer: Jonathan Sanger
Keywords: Drama




John Merrick, horribly disfigured with Proteus Syndrome, receives treatment by Dr. Frederick Treves at a Victorian-era hospital after suffering for years at the hands of a sideshow owner. Introduced into society, is that not just another type of sideshow? Filmed in black and white, with Merrick's appearance not revealed until the picture is well underway. Though based on the true case of Joseph (not John) Merrick, enough liberties are taken by Lynch that this must be considered a work of fiction. Received 8 Oscar nominations including Best Picture, Best Director, Best Actor, and Best Screenplay.
REVIEWS
Review by Justin Scheuble (posted on 16-Mar-2005)
No movie can ever be as touching as The Elephant Man. This is a story about cruelty that is portrayed so believably and realistically that it can at times seem scary. This movie is shockingly original, whose morals and emotional scenes are so un-"corny", it could catch any audience's undivided attention. Without movies as well done and modest as The Elephant Man, one may not take cinema seriously enough.
---
Do you know something we don't?
Submit a correction or make a comment about this profile

Copyright ©2019 Soylent Communications