The Missing (26-Nov-2003)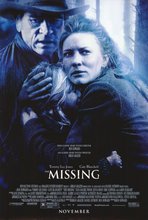 Director: Ron Howard
Writer: Ken Kaufman
From novel: The Last Ride by Thomas Eidson
Music Composed by: James Horner
Producers: Brian Grazer; Daniel Ostroff; Ron Howard
Keywords: Western




An Old West-era medicine woman works alongside her estranged father to rescue her abducted daughter.
ABSTRACT
Magdalena "Maggie" Gilkeson, a medicine woman and widowed mother living in Old West-era New Mexico, is visited by estranged father Samuel Jones -- eager to make amends following a lengthy disappearance -- just as daughter Lilly is kidnapped by bandits intending to sell her into sex slavery down in Mexico. Desperate for help in the absence of assistance from the law, Maggie reluctantly joins forces with her aloof father to retrieve her daughter.
CAST
Tommy Lee Jones
... Samuel Jones
Cate Blanchett
... Magdalena Gilkeson
Eric Schweig
... Chidin
Evan Rachel Wood
... Lilly Gilkeson
Jenna Boyd
... Dot Gilkeson
Steve Reevis
... Two Stone
Ray McKinnon
... Russell J. Wittick
Val Kilmer
... Lt. Jim Ducharme
and
Aaron Eckhart
... Brake Baldwin
Simon Baker
... Honesco
Jay Tavare
... Kayitah
Sergio Calderon
... Emiliano
Clint Howard
... Sheriff Purdy
Elisabeth Moss
... Anne
Max Perlich
... Isaac Edgerly
Ramon Frank
... Grummond
Deryle J. Lujan
... Naazhaan -- Hunter
Matthew Montoya
... Tsi Benyuln -- Blowing Tree
Joe Saenz
... Mba'tsu-Naabitin -- Wolf Trail
Gandi Shaw
... Izhashe -- Bird
Rod Rondeaux
... Hudlan -- The One Who Laughs
Juddson Linn
... Chauliln -- Evening Time
Dutch Lunak
... Lii Sinnziin -- Wild Horse
Josephine Schwan
... Sally
Alexandra Elich
... Sally
Yolanda Nez
... Lii Dahit'een -- Dancing Horse
Heather Gulas
... Captive Girl
Scarlett McAlister
... Captive Girl
Aura Jensen-Curtis
... Captive Girl
Shelby Kocurek
... Captive Girl
Molly McAlister
... Captive Girl
Angelina C. Torres
... Esmerelda Nunez
Deborah Martinez
... Maria Nunez
Rance Howard
... Telegraph Operator
Arron Shiver
... Rancher
David Midthunder
... Apache Scout
Paul Scallan
... Stokley
Jerry King
... Drunk Soldier
Jim Tarwater
... Drunk Soldier
David Garver
... Barker
Clemente Spottedhorse
... Captured Apache
Brian Brown
... Mexican Slave Trader
Toby Holguin
... Mexican Slave Trader
Eddie Fernandez
... Mexican Slave Trader
Jason Rodriguez
... Mexican Slave Trader
REVIEWS
Review by Anonymous (posted on 5-Jul-2007)
I'm sorry to say that this movie was a waste of money and a waste of the talents of Tommy Lee Jones and Cate Blanchett in such a far fetched, dumb movie. Dragging the little girl along which no mother in her right mind would do, the father (Jones) just happened to appear at just the right moment, it was just poorly done and needed a better script.
---
Do you know something we don't?
Submit a correction or make a comment about this profile

Copyright ©2019 Soylent Communications