The Light That Failed (24-Dec-1939)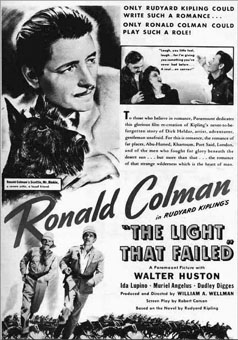 Director: William A. Wellman
Writer: Robert Carson
From novel by: Rudyard Kipling
Keywords: Drama




| Name | Occupation | Birth | Death | Known for |
| --- | --- | --- | --- | --- |
| Ronald Colman | Actor | 9-Feb-1891 | 19-May-1958 | A Double Life |
| Pedro de Cordoba | Actor | 28-Sep-1881 | 16-Sep-1950 | The Ghost Breakers |
| Halliwell Hobbes | Actor | 16-Nov-1877 | 20-Feb-1962 | British-American character actor |
| Walter Huston | Actor | 6-Apr-1884 | 7-Apr-1950 | The Treasure of the Sierra Madre |
| Ida Lupino | Actor | 4-Feb-1918 | 3-Aug-1995 | The Man I Love |
CAST
| | |
| --- | --- |
| Ronald Colman | ... Dick Heldar |
| Walter Huston | ... Torpenhow |
| Muriel Angelus | ... Maisie |
| Ida Lupino | ... Bessie Broke |
| Dudley Digges | ... The Nilghai |
| Ernest Cossart | ... Beeton |
| Ferike Boros | ... Madame Binat |
| Pedro de Cordoba | ... Monsieur Binat |
| Colin Tapley | ... Gardner |
| Ronald Sinclair | ... Dick (young boy) |
| Sarita Wooton | ... Maisie (young girl) |
| Halliwell Hobbes | ... Doctor |
| Charles Irwin | ... Soldier model |
| Francis McDonald | ... George |
| George Regas | ... Cassavetti |
| Wilfred Roberts | ... Barton |
REVIEWS
Review by Roberto (posted on 24-Feb-2005)
Ronald Colman is all but unknown today except among the most ardent of films buffs. Even I was a little kid or a young teenager when I saw most of his now classic films. His forte was that of the noble loser. Our society doesn't like losers even when they are as gallant as Colman made them.
Obviously, I hope, the reader will not think I mean a guy who is down on his luck because he hasn't got the guts to face life head-on. No, I mean the kind of hero who magnificently opposes the odds knowing he can't win. Colman's portraits of Sidney Carton in Tale of Two Cities and Dick Heldar in The Light that Failed are two such examples of his art.
Both films in some way are a bit flawed -- but Colman's performances shine. As Sidney Carton, keeping his promise to die if need be to keep his love's life beside her, he breaks your heart even as he knows his sacrifice will be the finest thing he's ever done, taking him to a rest he has never known.
The Light that Failed is every bit as heartbreaking. When he, the artist, knows that his final portrait has been destroyed, he doesn't sink into a lachrymose fit. Instead, he seems to realize at once what must be done and leaves the safety of England to go to the Sudan, where a war rages. He goes for a purpose that one should not divulge. Let it be said only that he does what's neceesary -- returning to the site of his greatest inspiration.
It is Rudyard Kipling who made the story melodramatic; Colman and the ever magnificent Walter Huston bring the artist of the story to life and makes us believe. The voiceover ending must be heard -- it wraps up the whole story.
---
Do you know something we don't?
Submit a correction or make a comment about this profile

Copyright ©2019 Soylent Communications