Coal Miner's Daughter (22-Feb-1980)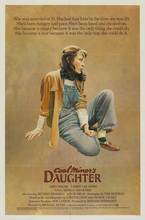 Director: Michael Apted
Writer: Tom Rickman
Based on a book: Coal Miner's Daughter by Loretta Lynn with George Vecsey
Producer: Bernard Schwartz
Keywords: Drama, Country Music, Biography




Loretta Lynn grows up in poverty in Kentucky, marries at thirteen, and struggles to become one of the most successful Country & Western singers in history. Sissy Spacek won the Oscar for Best Actress; received additional nominations for Best Picture, Best Adaptation, Best Cinematography, Best Set Decoration, Best Editing and Best Sound.
[watch trailer]
CAST
Sissy Spacek
... Loretta Webb
Tommy Lee Jones
... Doolittle Lynn
also starring
Beverly D'Angelo
... Patsy Cline
Levon Helm
... Ted Webb
Phyllis Boyens
... Clara Webb
Bill Anderson, Jr.
... Webb Child
Foister Dickerson
... Webb Child
Malla McCown
... Webb Child
Pamela McCown
... Webb Child
Kevin Salvilla
... Webb Child
William Sanderson
... Lee Dollarhide
Sissy Lucas
... Loretta's Child
Pat Patterson
... Loretta's Child
Brian Warf
... Loretta's Child
Elizabeth Watson
... Loretta's Child
Robert Elkins
... Bobby Day
Bob Hannah
... Charlie Dick
Ernest Tubb
... Himself
Jennifer Beasley
... Patsy Lynn
Jessica Beasley
... Peggy Lynn
Susan Kingsley
... Girl at Fairgrounds
Michael Baish
... Storekeeper
David Gray
... Doc Turner
Royce Clark
... Hugh Cherry
Gary Parker
... Radio Station Manager
Billy Strange
... Speedy West
Bruce Newman
... Opry Stage Manager
Grant Turner
... Opry Announcer
Frank Mitchell
... Washington Neighbor
Merle Kilgore
... Cowboy at Tootsie's
Jackie Lynn Wright
... Redhead at Tootsie's
Rhonda Rhoton
... Lizzie
Vernon Oxford
... Preacher
Ron Hensley
... John Penn
Doug Bledsoe
... Cowboy at Grange Hall
Aubrey Wells
... Red Lynn
Russell Varner
... Bidder at Pie Auction
Tommie O'Donnell
... Teacher at Pie Auction
Lou Headley
... Teacher at Pie Auction
Ruby Caudill
... Teacher at Pie Auction
Charles Kahlenberg
... Business Manager
Alice McGeachy
... Woman with Doll
Ken Riley
... Road Manager
Jim Webb
... Bus Driver
The Coal Miner's Band
Dave Thornhill
... Band Member
Don Ballinger
... Band Member
Zeke Dawson
... Band Member
Gene Dunlap
... Band Member
Durwood Edwards
... Band Member
Chuck Flynn
... Band Member
Lonnie Godfrey
... Band Member
Bob Hempker
... Band Member
The Patsy Cline Band
Danny Faircloth
... Band Member
Charles Gore
... Band Member
Doug Hauseman
... Band Member
Mike Noble
... Band Member
Daniel Sarenana
... Band Member
Billy West
... Band Member
REVIEWS
Review by anonymous (posted on 5-Feb-2007)
This wonderful movie changed my life, and left me a devoted Loretta Lynn fan. Sissy Spacek plays a tough role. In 1980 Loretta Lynn was a well known entertainer, with a unique personality. Achieving accuracy without caricature was a fine line, and Sissy certainly earned her Best Actress Oscar with her success. Tommy Lee Jones played an equally tough role. Mooney Lynn was no saint, and another really unique character. Tommy played him so sympathetically, without making him flawless. The filmography is specatcular. You feel you could be in rural Kentucky watching very poor people as we see a young Loretta stumble into decisions with her heart that carry her, first away from her coal mining village and then into music fame. You feel the tiredness of a rolling tour bus, the repetition of shows on the road, even Loretta's vague feelings of being dislocated on her infrequent visits to her own mansion. The costumes, the pace of the movie, the display of emotional events without schmaltz all make this movie spectacular. Even more, a biopic comes off not as an ego-centric vanity profile. We see the real people dealing with the consequences of fame. Now in 2007, it's harder than ever for ordinary people to image the pain, loneliness, and frustrations of a very successful entertainer. The celebrity mill presents glamour and wealth and personal scandals without letting us see the real people under the artificial legends and acclaim. The movie can only be faulted lightly for what it does not show. Loretta Lynn is - must be - a tough businesswoman and a workaholic to have achieved what she did, especially as a woman in the 1960s and 1970s. Conway Twitty was a huge business partner who helped explode Loretta Lynn's career into full country mega-stardom. Their duets were huge successes, giving each of them many new fans. He doesn't exist in the movie. Norm Burley and Owen Bradley and the Wilburn Brothers (who put Loretta on TV week after week) each had a huge hand in Loretta's success, and they don't exist in the movie. "The Pill" was a song about birth control that brought controversy but also showed Loretta's steely independence. Second only to Coal Miner's Daughter, this song showcases the Loretta Lynn legend, and her incredible pathbreaking in American music. In the movie the song never happened. Loretta had six kids, and much guilt at being a show biz Mom who missed so much of their lives. The kids are each two dimensional props in the context of this film. Still, this movie is an astonishing success. People who hate country music can love this movie. So American, with a dirt-poor peasant girl from the mountains spinning spunk and a pretty voice and an amazing songwriting talent into a music career that will be remembered for decades to come. Sissy Spacek singing all the songs herself - no lip-synching - is a final enduring innovation of this movie. This lets Sissy fully live the role in a very convincing way. There is no break between the character and the performances. You can feel the full power of the Loretta Lynn legend, because by the time Sissy is done re-enacting this powerful woman's life, you feel like you know Loretta far beyond an album cover or even the sweet (if overly sanitized) Loretta Lynn biography.
---
Do you know something we don't?
Submit a correction or make a comment about this profile

Copyright ©2019 Soylent Communications