Bird of Paradise (14-Mar-1951)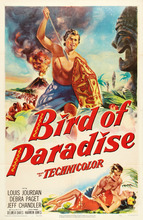 Director: Delmer Daves
Writer: Delmer Daves
From a play by: Richard Walton Tully
Keywords: Romantic Drama




A young Frenchman accompanies the European-educated son of a tribal chieftain to his South Sea island and marries the chief's daughter with tragic consequences.
| Name | Occupation | Birth | Death | Known for |
| --- | --- | --- | --- | --- |
| Jeff Chandler | Actor | 15-Dec-1918 | 17-Jun-1961 | Broken Arrow |
| Jack Elam | Actor | 13-Nov-1918 | 20-Oct-2003 | The Sundowners |
| Louis Jourdan | Actor | 19-Jun-1919 | 14-Feb-2015 | Kamal in Octopussy |
| Debra Paget | Actor | 19-Aug-1933 | | Love Me Tender |
| Everett Sloane | Actor | 1-Oct-1909 | 6-Aug-1965 | Patterns |
REVIEWS
Review by Kimo Ahia (posted on 22-Aug-2007)
This film in color was loaded with local extras and a movie that did a better than average presentation of native culture. This should be the version available to the public. When viewed side by side with the 1930's version, the 1951 edition wins. I remember it being filmed on portions of the island of Hawaii that were covered by lava in 1960 and 1992. I had the rare opportunity of seeing a VHS copy a while back and wished I could have gotten a copy for my personal library. Had tried very hard but unsuccessfully to obtain the film around 1977 to present on the Big Island of Hawaii where it would have been a sell-out program for a scholarship fund. Many would have come just to see their parents and grandparents on screen. I personally knew quite a few of the extras, even those with speaking parts.
---
Do you know something we don't?
Submit a correction or make a comment about this profile

Copyright ©2019 Soylent Communications