The Sand Pebbles (20-Dec-1966)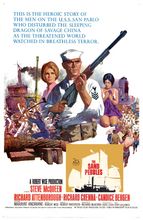 Director: Robert Wise
Writer: Robert Anderson
From novel: The Sand Pebbles by Richard McKenna
Keywords: Drama




American sailor Jake Holman is a highly competent engineer, also a loner who doesn't fit well with the military machine. He is transferred to the USS San Pablo (becoming a "sand pebble"), a river gunboat patrolling in 1926 China. The ship runs with a retinue of coolie labor, with several in the engine room that he definitely does not want there. Despite this, he copes with dignity, and a similar dignity when others want to take advantage of a prostitute onshore. As China destabilizes, the San Pablo must make a final trip upriver. Excellent performances by all involved, earning McQueen an Oscar nomination.
REVIEWS
Review by anonymous (posted on 30-Apr-2006)
A brooding Steve McQueen stars as a noncom who is sent from ship to ship due to his inability to submit to authority figures. He is a master mechanic who wants to do things his way and runs into trouble with the Status Quo of life in the brown water navy sailing the rivers of China. This movie reminds me of Richard Gere in "An Officer and a Gentleman"' in that the loner (Steve McQueen) realizes in the end that its not all about you. A side note, this movie also will make you hate the political correctness that U.S. soilders must endure.
---
Review by anonymous (posted on 22-Jul-2005)
This Movie, along with the Graduate, were defining moments for both the time period and this author personally. Although The Sand Pebbles was set pre-war China, its spirit floated on the tide of the 60's and its vignettes universal in their meaning for the 30's the 60's and to a some extent: today. The gunboat's isolation among a growing foriegn presence fanatical in their opposition while life aboard existed at the will of rigid traditional authority is ceratinly a theme of the Sixties. The hardscrabble individuality in the character of Jake Holman silenced by a system and seeing a light for himself at the end of the tunnel is universal. The Sand Pebbles souls, both comitted to and seperate from the struggle are caught in its turmoil and move towards inescapable and tragic ends. Richard Attenborough's work both as director and actor adds to the accolades which eventually earn for him the title of "Sir" from his country. His portrayal of Frenchy Burgoyne, whose smitten love ended in his ruin came from the heart. Mako as Po-Han brought a flavor to the film that transcended any token Asian characters as might have appeared another director's work. Po-Hans dreams, abilities and spirit were there for us all to experience making his end heart wrenching. This was Steve McQueen's finest role. Outside of film, McQueen is more than comfortable around machinery and weapons. Knowing both intimately is no act for him and he breathes palatability into the ships engine room because of it. He is perfect in a role as career enlisted Navy drawn into an unsolvable conflict , at odds with his stilted commander and discovering an emotional connection with a missionary's daughter. (Another great career Navy role tailor made for a Hollywood actor was The Last Detail starring Jack Nicholson seven years later). Unusual for him; McQueen shows a range of emotion goping from his resignation to life as a combative machinist's mate, to being disturbed by political turn of events when suddenly exposed to the charm of a peaceful, unpretientious and completely disarming woman. Eventually with her he sees a future beyond what he thought his life could ever be and through him, we see the same for ourselves: that second chance at happiness. Richard Crenna was perfect as the inflexible Captain projecting US Navy power into the heart of a disconcertingly foriegn culture rocked by internal political turmoil. He is hard, decisive and on a road towards irreversable command decisions within the impossible tack his mission has taken. Into this film comes Candice Bergen. I fell in love with Candice Bergen the moment I saw her face and I've been so smitten ever since. Her character of Missionary Shirley Eckert was brought to the screen as an understated but quietly confident performance. In their day; actresses like Martha Hyer, Grace Kelly and Cybil Shepard projected a stunning, icy beauty. Marilyn Monroe and Raquel Welch had a sensual energy that seemed to come right out of the screen. Karen Black , Goldie Hawn , Dyan Cannon and Natalie Wood each seemed to redirect our attention from physical beauty in order to expose their unique sense of humor. But Candice Bergen is the pretty girl in a gathering you dismiss until she is engaging your thoughts, challenging your ideas, proving to you with intellegence and educated confidence a knowledge you both can share if you just listen. She is on your mind long after the party is over. Before you realize it she's taken your heart as well. I recommend this movie to everyone as one of the finest examples of the decades cinema offerings. L.S.Beedle Jr
---
Do you know something we don't?
Submit a correction or make a comment about this profile

Copyright ©2019 Soylent Communications