Ben-Hur (30-Dec-1925)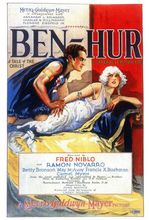 Director: Fred Niblo
Writers: H. H. Caldwell; Katherine Hilliker; June Mathis; Bess Meredyth; Carey Wilson
From novel: Ben Hur by Lew Wallace
Keywords: Action/Adventure, Bible




A Jewish prince, condemned to slavery by a boyhood friend, frees himself from bondage and seeks revenge. With a cast of thousands of extras, the most expensive silent film ever produced; young Irving Thalberg is largely responsible for shepherding this picture to release. Excitement of the chariot race approaches that of the 1959 version; its realistic naval battle utilizes full-sized ships. Entered 1997 into the National Film Registry.
REVIEWS
Review by KM (posted on 21-Mar-2005)
Just saw the latter half of this classic on Turner Classic Movies and was very impressed! The version I saw included the restored color scenes and an orchestral score (perhaps not the original score) that added a great deal. The chariot race was very exciting.
The acting and makeup conventions that differentiate the silent and talking film eras are still a bit hard for me to get into sync with. There is much of what we consider today to be overacting and overly heavy, stage-y makeup, so I try to put myself in a "silent" frame of mind in order to better appreciate silent films. We forget today how much of the story in a silent film MUST be carried only by gesture and facial expression in the absence of dialogue.
There's a good review of this film on e-opinions. Overall, I have to give the edge to the 1959 remake, but don't miss this 1925 version, either.
---
Do you know something we don't?
Submit a correction or make a comment about this profile

Copyright ©2019 Soylent Communications