The Shipping News (18-Dec-2001)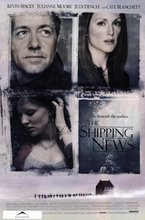 Director: Lasse Hallstrom
Writer: Robert Nelson Jacobs
From novel: The Shipping News by E. Annie Proulx
Music by: Christopher Young
Producers: Irwin Winkler; Lindda Goldstein Knowlton; Leslie Holleran
Keywords: Drama




A troubled man starts a new life in his ancestral home of Newfoundland after his wife's death.
ABSTRACT
Disaffected middle-aged Quoyle returns to his ancestral home in Newfoundland at the urging of his Aunt Agnis after his estranged wife passes away. Quoyle experiences an apparent personal rebirth amidst the harsh coastal Canadian climes, landing a job covering the shipping news for the local paper; interpersonal problems and other conflicts unfold in dramatic fashion as he attempts to adjust to life in Newfoundland.
CAST
Kevin Spacey
... Quoyle
Julianne Moore
... Wavey Prowse
Judi Dench
... Agnis Hamm
Scott Glenn
... Jack Buggit
Rhys Ifans
... Beaufield Nutbeem
with
Pete Postlethwaite
... Tert Card
Cate Blanchett
... Petal
Gordon Pinsent
... Billy Pretty
Jason Behr
... Dennis Buggit
Larry Pine
... Bayonet Melville
Jeannetta Arnette
... Silver Melville
Robert Joy
... EMS Officer
Alyssa Gainer
... Bunny
Kaitlyn Gainer
... Bunny
Lauren Gainer
... Bunny
John Dunsworth
... Guy Quoyle
Anthony Cipriano
... Young Quoyle (7)
Kyle Smith
... Young Quoyle (12)
Ken James
... Newspaper Boss
Roman Podhora
... Muscular Man
Luke Fisher
... Barfly
Terry Daly
... Hunky Guy
Gary Levert
... Newspaper Employee
Stephen Morgan
... Bartender Dave
Katherine Moennig
... Grace Moosup
Daniel Kash
... Det. Danzig
Will McAllister
... Herry Prowse
Marc Lawrence
... Cousin Nolan
Kathryn Fraser
... Daycare Mom
Nancy Beatty
... Mavis Bangs
R. D. Reid
... Alvin Yark
Deborah Grover
... Edna Buggit
Jon Whalen
... Big Guy
Nicole Underhay
... Beety Buggit
Emma Taylor-Isherwood
... Young Agnis
Andrew Fowler
... Guy Quoyle (15)
John MacEachern
... Drunken Guy
Jonathan Creaser
... Paramedic
Richard Hamilton
... Re-Voicing
REVIEWS
Review by banion48 (posted on 4-Apr-2005)
Kevin Spacey again regales audiences with a unique and melancholic story of everyday man's life -- the trials, tribulations and small successes each person enjoys. This time he is playing a dim-witted, lovable oaf named Quoyle who falls in love with the wrong sort of girl. Sleep-walking through life, Quoyle's only joys are his daughter, Bunny, and the manic love his wife gives him. When she burns out and his father dies his Aunt comes from the far North to express her sympathies. She finds a man undone. Taking him back to Newfoundland, she forces him to set up a new life and find a little bit of self-confidence.
---
Do you know something we don't?
Submit a correction or make a comment about this profile

Copyright ©2019 Soylent Communications