Be Cool (4-Mar-2005)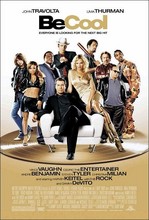 Director: F. Gary Gray
Writer: Peter Steinfeld
From novel: Be Cool by Elmore Leonard
Keywords: Crime/Comedy




Sequel to 1995's Get Shorty follows mobster-cum-movie producer Chili Palmer as he tries his hand at the music industry.
ABSTRACT
Sequel to (broken link, @movie:get-shorty-1995) (1995). Filmmaker Chili Palmer, bored with his career and emboldened by the mob-related murder of record-company-owning friend Tommy Athens, decides to switch gears in his life by jumping into the music industry, assisting Tommy's widow Edie to clear debts owed to a hip-hop producer and resurrect the company's fortunes through the promising career of young singer/songwriter Linda Moon. Palmer runs into a cast of unsavory characters as he seeks to succeed in the business, pursuing a curious romance with Edie along the way.
REVIEWS
Review by anonymous (posted on 14-Sep-2006)
The only thing that made this DVD worhtwhile for me was getting it for free at my local library. It was made in 2004 and was not released til 2006. Maybe that was a clue. I saw the original "Get Shorty" and enjoyed it, but in this so-called sequel, John Travolta as Chili Palmer was just "phoning it in." The same could be said for Uma Thurman who I usually like in anything. The plot was jumbled and incoherent. The inside jokes scattered haphazardly throughout the film were confusing, and alienated the audience. Some of the actors unbearably mugged the camera so much that I had to wipe my screen off from time to time. It was painful to watch hoping that it would get better. They actually talked about making a movie inside the movie about an up and coming singer and then actually made this movie about an up and coming singer. Was that the plot? Who knows? The amount of product placement was overwhelming from actual scenes playing up to the advertiser as well as a main character wearing a Dairy Queen uniform. The film finally did get better. It ended.
---
Do you know something we don't?
Submit a correction or make a comment about this profile

Copyright ©2019 Soylent Communications