Return to Me (7-Apr-2000)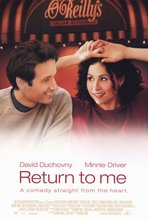 Director: Bonnie Hunt
Writers: Bonnie Hunt; Don Lake; Andrew Stern; Samantha Goodman
Music by: Nicholas Pike
Producer: Jennie Lew Tugend
Keywords: Romantic Drama




A man grieving over his wife's death falls in love with the recipient of her heart.
ABSTRACT
Chicago architect Bob Rueland, husband to zoologist Elizabeth, loses his beloved wife in a car accident following a fundraising dinner; her heart is donated to Grace Briggs, an ailing woman in desperate need of a transplant. A year on, Bob and Grace connect by chance when she is working as a waitress at a restaurant he visits for a blind date, brought together under the strangest possible circumstances with Elizabeth's heart in Grace's body.
CAST
David Duchovny
... Bob Rueland
Minnie Driver
... Grace Briggs
Carroll O'Connor
... Marty O'Reilly
Robert Loggia
... Angelo Pardipillo
Bonnie Hunt
... Megan Dayton
David Alan Grier
... Charlie Johnson
Joely Richardson
... Elizabeth Rueland
Eddie Jones
... Emmett McFadden
and
Jim Belushi
... Joe Dayton
Marianne Muellerleile
... Sophie
William Bronder
... Wally Jatczak
Brian Howe
... Mike
Chris Barnes
... Jeff
Adam Tanguay
... Adam Dayton
Karson Pound
... Karson Dayton
Tyler Spitzer
... Tyler Dayton
Laura Larsen
... Laura Dayton
Austin Samuel Hibbs
... Austin Dayton
Dick Cusack
... Mr. Bennington
Joey Gian
... Singer
Tom Virtue
... Dr. Senderak
Holly Biniak
... Big Hair
Tamara Tungate
... Celia
Kevin Hunt
... ER Doctor
Tom Senderak
... Paramedic
Jennie Lew Tugend
... Jennie
David Pasquesi
... Tony
Claire Lake
... ER Nurse
Carol Hunt
... Nurse Alice
Patrick Hunt
... Danny
Lindsay Allen
... Delivery Girl
Don Lake
... Transplant Man
Holly Wortell
... Marsha
Becky Veduccio
... Shari
Peter B. Spector
... Valet Guy
Darryl Warren
... Fr. Rudy
Rudy Gabor
... Italian Singer
William Zirko
... Italian Singer
Edward Ballog
... Italian Singer
Angelo Ricco
... Italian Singer
Alice Hunt
... Nancy
Franklin E. Jones
... Chester
Tom Hunt
... Tom
Jack Cooper
... Ballroom Bartender
Tim O'Malley
... Patrick
LaTaunya Bounds
... Zebra Girl
Harry Teinowitz
... Ice Cream Clerk
Walt Jacobs
... M.C.
Alan Gresik's Swing Shift Orchestra
... The AG Orchestra
Romano Ghini
... Cappucino Man
Gabriella Arena
... Nun
Paola Sebastiani
... Nun
Lilliana Vitale
... Nun
REVIEWS
Review by Jack (posted on 1-May-2007)
Good cast, sentimental, sappy and very predictable, unlikely scenario of a heart transplant recepient meeting and falling in love with the widower of a woman who was the donor of her transplant.
---
Do you know something we don't?
Submit a correction or make a comment about this profile

Copyright ©2019 Soylent Communications