The Last of the Mohicans (26-Aug-1992)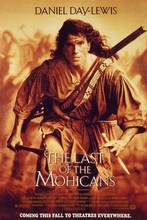 Director: Michael Mann
Writers: John L. Balderston; Christopher Crowe; Michael Mann; Daniel Moore; Paul Perez
From novel: The Last of the Mohicans by James Fenimore Cooper
Music by: Trevor Jones; Randy Edelman
Producers: Michael Mann; Hunt Lowry
Keywords: Action/Adventure, Archery




In the third year of the French and Indian War, frontier trappers Chingachgook, last of the Mohican tribe, and his sons Uncas and Hawkeye, the latter white and adopted, rescue Cora and Alice Munro, daughters of British colonel, from certain death to safety at Fort William Henry. Hawkeye falls for the older daughter, Cora. Sprawling and epic, largely ignored by critics in 1992. Won an Oscar for Best Sound.
[watch trailer]
CAST
Daniel Day-Lewis
... Hawkeye
Madeleine Stowe
... Cora
Jodhi May
... Alice
Russell Means
... Chingachgook
Wes Studi
... Magua
Eric Schweig
... Uncas
Steven Waddington
... Heyward
Maurice Roëves
... Col. Munro
Patrice Chéreau
... Gen Montcalm
Edward Blatchford
... Jack Winthrop
Terry Kinney
... John Cameron
Tracey Ellis
... Alexandra Cameron
Justin M. Rice
... James Cameron
Dennis J. Banks
... Ongewasgone
Pete Postlethwaite
... Capt. Beams
Colm Meaney
... Maj. Ambrose
Mac Andrews
... Gen. Webb
Malcolm Storry
... Phelps
David Schofield
... Sergeant Major
Eric D. Sandgren
... Coureur De Bois
Mike Phillips
... Sachem
Mark A. Baker
... Colonial Man
Mark Edrys
... Bougainville
Tim Hopper
... Ian
Gregory Zaragoza
... Abenaki Chief
Scott Means
... Abenaki Warrior
William J. Bozic, Jr.
... French Artillery Officer
Patrick Fitzgerald
... Webb's Adjutant
Mark Joy
... Henri
Steve Keator
... Colonial Representative
Don Tilley
... Colonial #1
Thomas E. Cummings
... Colonial #2
David Mark Farrow
... Guard
Ethan James Fugate
... French Sappeur
F. Curtis Gaston
... Soldier #1
Eric A. Hurley
... Soldier #2
Jared Harris
... British Lieutenant
Michael McConnell
... Sentry
Thomas John McGowan
... Rich Merchant
Alice Papineau
... Huron Woman
Mark J. Maracle
... Sharitarish
Clark Heathcliffe
... Regimental Sergeant Major
Sebastian Roché
... Martin
Joe Finnegan
... Redcoat #2
Sheila Adams Barnhill
... Humming Woman
REVIEWS
Review by T.J. Reid (posted on 29-Mar-2005)
This is a film that I can, and do, watch over and over. Today's film makers/writers/actors should take a lesson here. It is a moving story that manages to say so much without a barrage of foul language, nudity, vulgarity or violence for the sake of violence.
I seems to portray events realistically. The actors, without exception, give excellent performances. Not to mention the music that lets you run with the characters and keeps you on the edge.
I seldom bother looking up movies on the internet, but have enjoyed this one so much that I wanted to read more about it and was actually looking for information on the soundtract when I ran across this site and decided to put in my 2 cents about a movie that really stands above the most of what is produced today. (Most of which I don't bother to see)
Sure makes me wish they would make more movies of this caliber.
---
Do you know something we don't?
Submit a correction or make a comment about this profile

Copyright ©2019 Soylent Communications