The Music Man (19-Jun-1962)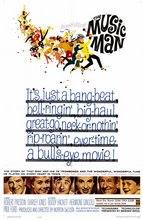 Director: Morton DaCosta
Writer: Marion Hargrove
From a play: The Music Man by Meredith Willson with Franklin Lacey
Producer: Morton DaCosta
Keywords: Musical Comedy




Confidence man arrives in River City, posing as "Professor Harold Hill", offering to set up a boy's marching band if money can be found to buy uniforms and instruments. The professor is hampered by the fact that he is tone deaf and unable to read music. Film adaptation of the the successful Broadway musical is better than the stage version. Winner of Best Musical Score Oscar, received five other nominations including Best Picture.
| Name | Occupation | Birth | Death | Known for |
| --- | --- | --- | --- | --- |
| Paul Ford | Actor | 2-Nov-1901 | 12-Apr-1976 | The Phil Silvers Show |
| Hermione Gingold | Actor | 9-Dec-1897 | 24-May-1987 | Madame Alvarez in Gigi |
| Buddy Hackett | Comic | 31-Aug-1924 | 30-Jun-2003 | Abrasive old school comic |
| Ron Howard | Actor | 1-Mar-1954 | | Richie Cunningham on Happy Days |
| Shirley Jones | Actor | 31-Mar-1934 | | Mom of The Partridge Family |
| Charles Lane | Actor | 26-Jan-1905 | 9-Jul-2007 | Grumpy character actor |
| Robert Preston | Actor | 8-Jun-1918 | 21-Mar-1987 | The Music Man |
| Mary Wickes | Actor | 13-Jun-1910 | 22-Oct-1995 | Sister Act |
CAST
Starring
Robert Preston
... Harold Hill
Shirley Jones
... Marian Paroo
Co-Starring
Buddy Hackett
... Marcellus Washburn
Hermione Gingold
... Eulalie Mackechnie Shinn
Paul Ford
... Mayor Shinn
Pert Kelton
... Mrs. Paroo
The Buffalo Bills
... Barbershop Quartet
with
Timmy Everett
... Tommy Djilas
Susan Luckey
... Zaneeta Shinn
Ron Howard
... Winthrop Paroo
Harry Hickox
... Charlie Cowell
Charles Lane
... Constable Locke
Mary Wickes
... Mrs. Squires
Sara Seegar
... Maud
Adnia Rice
... Alma
Peggy Mondo
... Ethel
Jesslyn Fax
... Avis
Monique Vermont
... Amaryllis
REVIEWS
Review by Earl in Alaska (posted on 28-Jul-2007)
This movie is very special. I've watched it so many times, and each time it seems so fresh and energetic. Also so representative of the rural Iowa lifestyle, which we visit almost every year. Most of us have seen the play in one form or another -- including high school and community theater. A great experience, but the movie has great stars -- who would make a better Professor Harold Hill than Robert Preston, and no Marian the Librarian could do better than Shirley Jones. The support group is also very strong --including Buddy Hackett and Paul Ford. The cinema work is outstanding, the music representative of the best of boys bands, and the singing full of enthusiasm. See the movie... many times and patronize the play each time it comes to your community! Earl
---
Review by anonymous (posted on 19-Jun-2005)
Some musicals endure for a lifetime while some (like "The Musicman") are eternal . This one takes me back to a kinder time and the performers and music remind you why musicals are an American star shining bright. Robert Preston (the one, the only... Professor Harold Hill) takes us on a magical journey to River City and Meridith Wilson's music reminds us why, as kids young & old, we love a big star spangled marching band. The movie does the Broadway show proud. If I'm still kicking in another quarter century I'll dust this one off and again relive those great songs that remind me why I played the Trombone all these 50 plus years following in the footsteps of my grandfather who once played with "Wilson" in the prestigous "John Phillips Sousa Band". Next time you're bored give this a look-see and test yourself on the tongue-twister songs that Preston made sound soooo easy to sing. Many a community theater has realized the demands of this one.
---
Do you know something we don't?
Submit a correction or make a comment about this profile

Copyright ©2019 Soylent Communications