Master and Commander: The Far Side of the World (14-Nov-2003)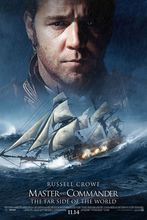 Director: Peter Weir
Writers: Peter Weir; John Collee
From novel: The Far Side of the World by Patrick O'Brian
Music by: Iva Davies; Christopher Gordon; Richard Tognetti
Producers: Samuel Goldwyn, Jr.; Peter Weir; Duncan Henderson
Keywords: Action/Adventure




Film adaptation of the Patrick O'Brian novel of the same name follows a British captain's daredevil exploits during the Napoleonic Wars.
ABSTRACT
Captain Jack Aubrey is a hardened sea dog mired in turmoil, heading the British-flagged H.M.S. Surprise during the Napoleonic Wars. Acting on orders from his superiors to track down and neutralize the French privateer Acheron off the coast of the South American continent, Captain Aubrey soon learns of the Acheron's advanced technical capabilities, pulling out every stop in a quixotic quest to deliver glory for Britannia. Master and Commander: The Far Side of the World is a contemporary war epic, detailing one ambitious captain's determination to rule the day no matter what the cost nor odds.
[watch trailer]
CAST
Russell Crowe
... Capt. Jack Aubrey
Paul Bettany
... Dr. Stephen Maturin, Surgeon
Officers
James D'Arcy
... 1st Lt. Tom Pullings
Edward Woodall
... 2nd Lt. William Mowett
Chris Larkin
... Capt. Howard, Royal Marines
Midshipmen
Max Pirkis
... Blakeney
Jack Randall
... Boyle
Max Benitz
... Calamy
Lee Ingleby
... Hollom
Richard Pates
... Williamson
Warrant Officeres
Robert Pugh
... Mr. Allen, Master
Richard McCabe
... Mr. Higgins, Surgeon's Mate
Ian Mercer
... Mr. Hollar, Boatswain
Tony Dolan
... Mr. Lamb, Carpenter
Crew
David Threlfall
... Preserved Killick, Captain's Steward
Billy Boyd
... Barrett Bonden, Coxswain
Bryan Dick
... Joseph Nagle, Carpenter's Mate
Joseph Morgan
... William Warley, Capt. of Mizzentop
George Innes
... Joe Plaice, Able Seaman
William Mannering
... Faster Doudle, Able Seaman
Patrick Gallagher
... Awkward Davies, Able Seaman
Alex Palmer
... Nehemiah Slade, Able Seaman
Mark Lewis Jones
... Mr. Hogg, Whaler
John De Santis
... Padeen, Loblolly Boy
Ousmane Thiam
... Black Bill, Killick's Mate
Thierry Segall
... French Captain
REVIEWS
Review by anonymous (posted on 26-Jun-2005)
Set in the Napoelonic Wars, this movie follows the HMS Surprise and her journey around Brazil 1805. As well as containing plenty of action, it also has subtle undertones. It is historically correctand based on the novels by Patrick O'Brian. Peter Weir used the plotline of Patrick O'Brian's tanth book, The Far Side of the World, but takes elements from the other books as well. (***spoilers below***) Captain Jack Aubrey (Russell Crowe), under orders to 'take, sink or burn' the French privateer Acheron, sails his ship, the HMS Surprise, to the Brazilian coast. However, the Acheron comes upon them in fog and due to numerous advantages on the part of the French ship, the Surprise is soundly beaten and barely escapes. Then follow numerous chases through the perpetual storms and squalls of the ocean. Eventually, through a clever trick on Aubrey's part, the tables are turned and the Acheron is defeated. Throughout the voyage, Aubrey's close friend Stephen Maturin (Paul Bettany)begins to wonder what it is that drives Jack on to go beyond his orders. The touching loyalty of Aubrey's First Lieutenant, Thomas Pullins (James D'Arcy), to whom Jack tenderly refers as 'Tom' is rewarded by promotion. We see a touching relationship between two midshipmen, Peter Calamy and Lord William Blakeney, but a sad story with another midshipman, Hollom (Lee Ingleby) who is unable to pass for lieutenant, as he loses respect -- something which earns him sharp words from his captain.
---
Do you know something we don't?
Submit a correction or make a comment about this profile

Copyright ©2019 Soylent Communications