Fargo (8-Mar-1996)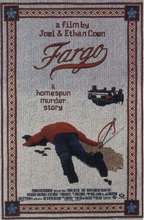 Director: Joel Coen
Writers: Ethan Coen; Joel Coen
Music by: Carter Burwell
Producer: Ethan Coen
Keywords: Dark Comedy, Kidnapping




A used car salesman, his life and finances in disarray, hires two dullwits to kidnap his wife in expectation of a ransom from his wealthy father-in-law. Superb dark comedy, among the best from the Coen Brothers. Won Oscars for Best Actress and Best Screenplay; received nominations for Best Picture, Best Director, Best Cinematography, Best Supporting Actor and Best Editing. Entered 2006 into the National Film Registry.
CAST
Frances McDormand
... Marge Gunderson
William H. Macy
... Jerry Lundegaard
Steve Buscemi
... Carl Showalter
Harve Presnell
... Wade Gustafson
Peter Stormare
... Gaear Grimsrud
Kristin Rudrüd
... Jean Lundegaard
Tony Denman
... Scotty Lundegaard
Gary Houston
... Irate Customer
Sally Wingert
... Irate Customer's Wife
Kurt Schweickhardt
... Car Salesman
Larissa Kokernot
... Hooker #1
Melissa Peterman
... Hooker #2
Steven Reevis
... Shep Proudfoot
Warren Keith
... Reilly Diefenbach
Steve Edelman
... Morning Show Host
Sharon Anderson
... Morning Show Hostess
Larry Brandenburg
... Stan Grossman
James Gaulke
... Trooper
J. Todd Anderson
... Victim in Field
Michelle Suzanne LeDoux
... Victim in Car
John Carroll Lynch
... Norm Gunderson
Bruce Bohne
... Lou
Petra Boden
... Cashier
Steve Park
... Mike Yanagita
Wayne Evenson
... Customer
Cliff Rakerd
... Officer Olson
Jessica Shepherd
... Hotel Clerk
Peter Schmitz
... Airport Lot Attendant
Steve Schaefer
... Mechanic
Michelle Hutchinson
... Escort
David Lomax
... Man in Hallway
José Feliciano
... Himself
Don William Skahill
... Night Parking Attendant
Bain Boehlke
... Mr. Mohra
Rose Stockton
... Valerie
Robert Ozasky
... Bismarck Cop #1
John Bandemer
... Bismarck Cop #2
Don Wescott
... Bark Beetle Narrator
REVIEWS
Review by anonymous (posted on 30-Dec-2006)
I'm a little biased because I'm from Minnesota and a fan of the Cohen brothers work. On that note, I really enjoyed Fargo. Many people up north had a problem with the dialect because they felt that it made us look stupid, but I thought that it was dead on. The movie is based on a true story and to say that truth is stranger than fiction would be an understatement. This show is a dark comedy that kept me entertained from beginning to end. The story is of an ambitious, unscrupulous car salesman, Jerry Lundegard (Macy) who is of less than average intelligence. He works for his father-in-law's dealership and while the father-in-law is quite wealthy, Jerry's gotten himself into substantial financial hardship and is looking for an easy way out. He hires two criminals to kidnap his wife and all hell breaks loose. To make a long story short, the kidnapping is botched, the father-in-law and one of the kidnappers get killed along with a cop and several innocent victims and Lundegard ends up doing hard time for his role in the affair. One of the most famous moments from the scene is when Francis McDormand comes upon Peter Storemare running Steve Buscemi through a wood chipper. "Is that your buddy in the woodchippa?" The show is hilarious in parts and it makes for a great viewing, I'd recommend it to anyone that enjoys dark comedy and Minnesotan accents.
---
Do you know something we don't?
Submit a correction or make a comment about this profile

Copyright ©2019 Soylent Communications