Susan Atkins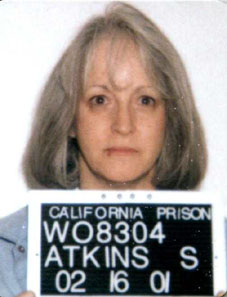 AKA Susan Denise Atkins
Born: 7-May-1948
Birthplace: San Gabriel, CA
Died: 24-Sep-2009
Location of death: Chowchilla, CA [1]
Cause of death: Cancer - Brain

Gender: Female
Religion: Born-Again Christian
Race or Ethnicity: White
Sexual orientation: Straight
Occupation: Criminal
Nationality: United States
Executive summary: Manson Family
Susan Atkins' mother died from cancer in 1962, and her father was an alcoholic unable to find permanent work. He abandoned the family, and Susan dropped out of high school as a junior. She took odd jobs, making ends meet waitressing and as a topless dancer. In the 1967 Haight-Ashbury, Atkins had the misfortune to meet the charismatic Charles Manson. He renamed her "Sadie Mae Glutz", and the "Manson Family" relocated to the Spahn Ranch near Chatsworth, California. On 8 August 1969, Manson sent Tex Watson and other family members including Atkins to the home of film director Roman Polanski and actress Sharon Tate. Watson murdered the pregnant Tate, coffee heiress Abigail Folger, and three others. It was Atkins who tasted Tate's blood and smeared the word "PIG" on a wall with it.
Police had few leads on the murders. An unrelated raid led to Spahn Ranch's abandonment. At an even more remote ranch, Atkins and several other Manson followers were arrested on suspicion of auto theft. With information supplied by another family member, Atkins was subsequently charged with involvement in the murder of Gary Hinman, who had been killed in July by Manson associate Bobby Beausoleil. While incarcerated, Atkins told two inmates of the Tate/LaBianca murders. Her misplaced jailhouse confidence led to the dismantling of the entire Manson Family. Police arrested the other participants, and Atkins agreed to testify in exchange for avoiding the death penalty. She reneged, and Atkins and four others were sentenced to death in 1971. All death penalties in California were commuted to life imprisonment the following year.
Atkins published her autobiography, Child of Satan, Child of God, in 1977. She had become a born-again Christian, marrying twice while in prison. Several times she aimed for parole, attempting to show that she had turned her life around, and expressed deep remorse. In 2008 Atkins was diagnosed with terminal brain cancer, leading to the amputation of her leg and partial paralysis. After a final attempt at parole on her deathbed was met with unanimous denial, on 24 September 2009 she died at the Central California Women's Facility in Chowchilla, California.
---
[1] Central California Women's Facility, Chowchilla, CA.

Father: Edward Atkins
Mother: Jeanette (d. 1962 cancer)
Brother: Michael
Brother: Steven
Son: Zezozece Zadfrack Glutz ("Paul", b. 7-Oct-1968 to unknown father)
Husband: Donald Lee Laisure (m. 2-Sep-1981, div. 1981)
Husband: James W. Whitehouse (attorney, m. 1987, until her death)


High School: Leigh High School, San Jose, CA (transferred)
High School: Los Banos High School


Manson Family
Carrying a Concealed Weapon 1966
Murder 8-Aug-1969 (Tate-LaBianca murders, sentenced to death, commuted)
Born-Again Christian 1974
Brain Surgery
Paralyzed
Escaped Death Sentence People v. Anderson (24-Apr-1972)
Risk Factors: LSD, Amputee, Brain Cancer


Official Website:
http://www.susanatkins.org/

Author of books:
Child of Satan, Child of God (1977)





Requires Flash 7+ and Javascript.



Do you know something we don't?
Submit a correction or make a comment about this profile






Copyright ©2019 Soylent Communications