Barbara Bush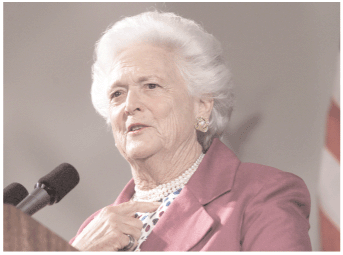 AKA Barbara Pierce
Born: 8-Jun-1925
Birthplace: New York, NY [1]
Died: 17-Apr-2018
Location of death: Houston, TX
Cause of death: Heart Failure
Remains: Buried, George H.W. Bush Presidential Library and Museum, College Station, TX

Gender: Female
Religion: Protestant
Race or Ethnicity: White
Sexual orientation: Straight
Occupation: First Lady
Party Affiliation: Republican
Nationality: United States
Executive summary: Wife of US President George H.W. Bush
Barbara Pierce's father was the President of McCall Corporation, then the publisher of popular magazines like McCall's and Redbook. Though she was raised in the Depression, her family employed two servants and lived in a modest mansion in an upper-crust section of Rye, New York, about two miles from the Connecticut border. She was sent to an exclusive boarding school in South Carolina, and met her future husband, George H.W. Bush, during Christmas vacation, when she attended a dance at his school, about 200 miles from her home. Two years later, they became engaged as he went into the military, and when he returned on leave in 1945 she dropped out of college to become his bride.
They had six children, and endured the tragedy of losing their daughter, Robin, to leukemia when she was three years old. Mrs Bush has said that she feels she mishandled her daughter's death -- she never told the girl's older brother and closest playmate, then-seven-year-old George W. Bush, that his sister was sick, and forbade him to attend the funeral.
As First Lady, Barbara Bush advocated family literacy programs, and recorded a series of "Mrs. Bush's Story Time" radio broadcasts. She was known for her folksy, grandmotherly image, and showed a willingness to poke fun at herself, which made her a popular First Lady. She often joked that marrying well was a key to a successful life, and she wrote two books in the persona of two different Bush family dogs. In 1989, she established the Barbara Bush Foundation for Family Literacy, and she has served since then as the group's Honorary Chairperson.
Since leaving the White House, Mrs Bush has made several eyebrow-raising statements. During a 2003 appearance on Good Morning America, as U.S. troops were deploying to Iraq, she described her disinterest in watching TV coverage: "But why should we hear about body bags, and deaths, and how many, what day it's gonna happen, and how many this or what do you suppose? Or, I mean, it's not relevant. So, why should I waste my beautiful mind on something like that?"
In the aftermath of Hurricane Katrina in 2005, she visited the Astrodome in Houston, where thousands of evacuees from Louisiana and Mississippi had been housed in the emergency. After wandering through the crowd with her husband and Secret Service escorts, she said, "Almost everyone Iíve talked to says, 'We're going to move to Houston'... which is sort of scary, they all want to stay in Texas... And so many of the people in the arena here, you know, were underprivileged anyway, so this -- this is working very well for them."
Mrs Bush donated "at least $30,000," according to media accounts, to the Bush-Clinton Katrina Fund. The donation, however, was made with the stipulation that the funds be spent only on educational software from Ignite Learning, a school video company founded by her son Neil Bush.
Mrs Bush is a distant cousin of President Franklin Pierce, and, with Abigail Adams, she is one of only two women in U.S. history both married to and mother of American Presidents.
---
[1] Booth Memorial Hospital.

Father: Marvin Pierce (President of McCall's Corporation, b. 17-Jun-1893, d. 17-Jul-1969)
Mother: Pauline Robinson Pierce (b. Apr-1896, m. 1918, d. 23-Sep-1949 auto accident)
Brother: Scott Pierce (financial executive, b. 1930)
Husband: George H.W. Bush (US President, b. 12-Jun-1924, m. 6-Jan-1945, until her death)
Son: George Walker Bush (US President, b. 6-Jul-1946)
Daughter: Robin Bush (b. 20-Dec-1949, d. 11-Oct-1953 leukemia)
Son: John Ellis Bush ("Jeb", Governor of Florida, b. 11-Feb-1953)
Son: Neil Mallon Bush (investment consultant, b. 22-Jan-1955)
Son: Marvin Pierce Bush (investment counselor, b. 22-Oct-1956)
Daughter: Dorothy Bush LeBlond Koch ("Doro", b. 18-Aug-1959)


High School: Ashley Hall Boarding School, Charleston, SC (1943)
University: Smith College (dropped out)


Afghanistan World Foundation Honorary Chairperson
AmeriCares Ambassador-at-Large
Bush-Cheney '04
Bush-Quayle '92
George W. Bush for President
John McCain 2008
Kennedy Center Honorary Chair
Mayo Foundation Board member
National Constitution Center National Honorary Committee
W Stands for Women 2004
Funeral: Richard Nixon (1994)
Dubya Ranch Hand Apr-2001
Funeral: Ronald Reagan (2004)
Bush Family
Miscarriage (1960s)
Traveled to the USSR for the funeral of Yuri Andropov (13-Feb-1984)
Audience with the Pope May-1989
Hip Replacement Surgery (1996)
Open Heart Surgery Houston, TX (4-Mar-2009)
Secret Service Codename Snowbank, Tranquility
Funeral: Gerald Ford (2007)
Risk Factors: Graves Disease, Depression


FILMOGRAPHY AS ACTOR
Fahrenheit 11/9 (6-Sep-2018) · Herself
Gaga: Five Foot Two (8-Sep-2017) · Herself
When the Levees Broke: A Requiem in Four Acts (16-Aug-2006) · Herself


Author of books:
C. Fred's Story: A Dog's Life (1984, written as C. Fred Bush)
Millie's Book (1989, written as Millie Bush)
Barbara Bush: A Memoir (1994)
The First Mom: Wit and Wisdom of Barbara Bush (2004)
Reflections: Life After the White House (2004)





Requires Flash 7+ and Javascript.



Do you know something we don't?
Submit a correction or make a comment about this profile






Copyright ©2019 Soylent Communications