Earl Warren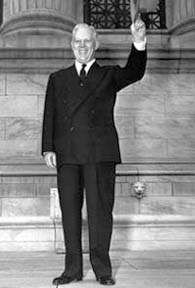 Born: 19-Mar-1891
Birthplace: Los Angeles, CA
Died: 9-Jul-1974
Location of death: Washington, DC [1]
Cause of death: Heart Failure
Remains: Buried, Arlington National Cemetery, Arlington, VA

Gender: Male
Religion: Methodist
Race or Ethnicity: White
Sexual orientation: Straight
Occupation: Judge, Politician
Party Affiliation: Republican
Nationality: United States
Executive summary: US Chief Justice, 1953-69
Military service: US Army (1st Lt., 1917-18)
In 1930, as District Attorney of Alameda County, Warren successfully prosecuted Sheriff Burton F. Becker for corruption, despite the sheriff's support from a deeply-entrenched local chapter of the Ku Klux Klan.
On July 29, 1939, California Attorney General Warren personally oversaw a coordinated raid on four gambling ships anchored off the coast of Santa Monica. They had been operating for more than a year, three miles from the coast. One ship, the S.S. Rex, managed to keep law enforcement from boarding for eight days, by the use of a firehose.
In a June 1943 speech at the National Governor's Conference in Ohio, Warren cautioned: "If the Japs are released, no one will be able to tell a saboteur from any other Jap. [...] We don't want to have a second Pearl Harbor in California." In his memoirs decades later, he noting having "since deeply regretted the removal order and my own testimony advocating it, because it was not in keeping with our American concept of freedom and the rights of citizens."
Was Thomas E. Dewey's running mate in 1948.
Bitterly denounced in 1961 as pro-Communist by the John Birch Society, which in a nationwide campaign purchased billboards emblazoned with the slogan "Save Our Republic! Impeach Earl Warren" alongside an American flag.
In Robinson v. California (1962), the Court ruled that drug addiction was an illness, and therefore struck down a California law which had made it a crime to be addicted to a controlled substance.
---
[1] Georgetown University Hospital, Washington, DC

Father: Methias H. Warren ("Matt", Southern Pacific Railroad repairman, b. 1864, d. 15-May-1938 murder)
Mother: Christine Hernlund ("Chrystal", d. 1941)
Sister: Ethel Warren Plank (older)
Wife: Nina Palmquist Meyers (m. 4-Oct-1925, six children)
Son: James (commercial artist)
Daughter: Virginia
Son: Earl Jr.
Daughter: Dorothy
Daughter: Nina Elizabeth ("Honey Bear", b. 1933)
Son: Robert


High School: Kern County High School, Bakersfield, CA
Law School: LLB, University of California at Berkeley (1912)
Law School: JD, University of California at Berkeley (1914)
Administrator: Board of Regents, University of California


Warren Commission Chairman (1963-64)
US Supreme Court Justice Chief Justice (1953-69)
Governor of California (1943-53)
Attorney General of California (1939-43)
California State Official District Attorney, Alameda County (1925-34)
Alfalfa Club 1954
American Academy of Arts and Sciences
American Bar Association resigned (19-Feb-1959)
American Legion
American Philosophical Society
Benevolent & Protective Order of the Elks
Freemasonry Scottish Rite, Oakland, CA (Dec-1919)
Loyal Order of Moose Lodge 324, Oakland, CA
National Exchange Club
Republican National Committee (1936-38)
Shriners
Smithsonian Institution Board of Regents (1953-69)
State Bar of California 1914
US National Gallery of Art Board of Trustees (1953-69)
Phi Delta Phi Legal Fraternity
Sigma Phi Society
Grand Marshal of the Tournament of Roses 1943
Grand Marshal of the Tournament of Roses 1955
Presidential Medal of Freedom posthumous (1981)
Surgery intestinal cancer (1951)
Audience with the Pope
Norwegian Ancestry Paternal
Swedish Ancestry Maternal
Risk Factors: Stomach Cancer


FILMOGRAPHY AS ACTOR
The Loving Story (15-Apr-2011) · Himself





Requires Flash 7+ and Javascript.



Do you know something we don't?
Submit a correction or make a comment about this profile






Copyright ©2019 Soylent Communications