Stuart Symington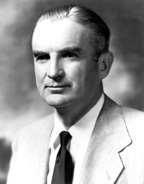 AKA William Stuart Symington, Jr.
Born: 26-Jun-1901
Birthplace: Amherst, MA
Died: 14-Dec-1988
Location of death: New Canaan, CT
Cause of death: Heart Failure
Remains: Buried, Washington National Cathedral, Washington, DC

Gender: Male
Religion: Anglican/Episcopalian
Race or Ethnicity: White
Sexual orientation: Straight
Occupation: Politician, Business
Party Affiliation: Democratic
Nationality: United States
Executive summary: US Senator from Missouri, 1953-76
Military service: US Army (2nd Lt.)
William Stuart Symington attended Yale for four years without earning a degree[1], then married the daughter of US Senator James W. Wadsworth, Jr. and was promptly given an executive position in one of Wadsworth's several companies. He worked for Wadsworth for a dozen years, becoming a millionaire, and retired at the age of 37, but soon grew restless. He was offered the Presidency of then-struggling Emerson Electric, and after streamlining Emerson and overseeing its return to profitability, he was tapped by President Harry S. Truman for a series of government positions, culminating in Symington's appointment as the first Secretary of the US Air Force. In 1952 he declined an offer to become Commissioner of Major League Baseball, and instead ran for the US Senate from Missouri, winning easily despite being a Democrat in Republican Dwight D. Eisenhower's landslide victory.
Symington had a long Senate career, making his early mark in the Army-McCarthy hearings of 1954, when he suggested that Senator Joseph McCarthy "should see a psychiatrist". Symington was a prominent hawk on defense issues, including the Soviet menace and war in Vietnam, and in 1956 and again in 1960 he was one of the Democratic Party's contenders for the Presidential nomination. His support for the Vietnam war softened after a 1967 trip to Southeast Asia, and by 1969 he became a complete dove, opposing the war and scrutinizing military waste, after discovering that President Richard M. Nixon had signed dozens of secret agreements committing US military forces to protect foreign nations in hypothetical emergencies. Symington is perhaps most remembered today for a brief statement he made announcing his retirement from politics in April 1975, "I'm tired of having old men in Government passing laws that force young men to do battle in causes that are not essential to the United States."
His first wife, Evelyn Wadsworth, was a granddaughter of US statesman John Hay, and his second wife, Ann Hemingway Watson, was the widow of IBM President Arthur K. Watson. His son, James Symington, was a US Congressman from Missouri, and his cousin, Fife Symington, was Governor of Arizona. His great-grandfather, also named William Stuart Symington, was a Confederate officer in the US Civil War, and served as General George Pickett's aide-de-camp.
---
[1] Linda McFarland, Cold War Strategist: Stuart Symington and the Search for National Security, 2001, pp. 5-6.

Father: William Stuart Symington (attorney)
Mother: Emily Haxall Harrison Symington
Wife: Evelyn Wadsworth Symington (dau. of James W. Wadsworth, Jr., m. 1924, d. 1972, two sons)
Son: James Symington (US Congressman, b. 28-Sep-1927)
Son: Stuart Symington III ("Stuart Symington, Jr.")
Wife: Ann Hemingway Watson Symington ("Nancy", b. 1919, m. 1978)


High School: Baltimore City College (1918)
University: Yale University (attended, 1919-23)


First American Bankshares Vice Chairman (1980-88)
National Cathedral Association President (1974-77)
US Senator, Missouri (3-Jan-1953 to 27-Dec-1976, resigned)
Reconstruction Finance Corporation Administrator Administrator (1951-52)
US Official Chiarman, National Security Resources Board (1950-51)
US Secretary of the Air Force (1947-50)
US National Security Council (1947-51)
US War Department Assistant Secretary of War for Air (1946-47)
US Official Director of Surplus Property Administration (1945-46)
Emerson Electric President (1938-45)
Council on Foreign Relations
Freemasonry
Delta Kappa Epsilon Fraternity
Right Arm of St. Louis 1976


Appears on the cover of:
Time, 19-Jan-1948, DETAILS: Secretary Symington
Time, 24-Nov-1958, DETAILS: Candidate Symington
Newsweek, 9-May-1960, DETAILS: Candidate Stu Symington





Requires Flash 7+ and Javascript.



Do you know something we don't?
Submit a correction or make a comment about this profile






Copyright ©2019 Soylent Communications