Gabor Szabo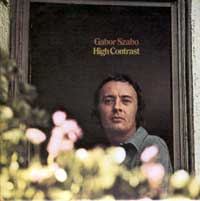 AKA Gábor István Szabó
Born: 8-Mar-1936
Birthplace: Budapest, Hungary
Died: 26-Feb-1982
Location of death: Budapest, Hungary
Cause of death: Liver Failure
Remains: Buried, Budapest, Hungary

Gender: Male
Religion: Scientology
Race or Ethnicity: White
Sexual orientation: Straight
Occupation: Jazz Musician
Nationality: Hungary
Executive summary: Innovative jazz guitarist
An innovative musician who combined the folk music of his native Hungary with his passion for jazz, Gabor Szabo began his study of the guitar at the age of 14. Following a single free lesson that came as a gift with his first instrument, he then began to teach himself to play by emulating the American jazz performers he heard on the radio. Some work with various bands in the Budapest area gradually developed, but in 1956 Szabo was forced to take refuge in Austria by the Communist takeover of Hungary.
Eventually settling in California, Szabo struggled to establish himself as a musician; for a time he worked as a janitor and used his earnings to attend the Berklee School of Music in Boston between 1958 and 1960. Reaching the end of his money, Szabo returned to California and again sought to break into the music field, working in property management to support his family. In 1961, the long-sought opportunity arrived in the form of an invitation to join The Chico Hamilton Quintet. After a somewhat tenuous beginning (Szabo was actually fired by Hamilton and then re-hired later in the year), the guitarist quickly began to establish himself with jazz audiences through his strikingly unique approach to his instrument. It was during this period that Szabo first performed with Lena Horne - an association that would later evolve into a collaborative record and an appearance on Horne's television special in 1970.
By 1965 Szabo had moved on from Hamilton's group, working for a time with The Gary McFarland Quintet and in a quartet fronted by his Hamilton bandmate Charles Lloyd before initiating his solo career in 1966 with the release of Spellbinder. A track from this album, Gypsy Queen, would later be adapted into the successful single Black Magic Woman by the band Santana. The following year, he formed his own quintet, with whom he recorded a series of albums for the Skye label during the remainder of the decade.
. Concurrent with the growing popularity of rock, Szabo began to integrate the use of feedback into his playing, as well as intergrating aspects of Indian music. Following the dissolution of his quintet, Szabo assembled a sextet; the new band concentrated on a more commercially-accesible style of music and began an active West Coast performing schedule. Numerous collaborative projects also materialized throughout the 1970s - including High Contrast, a critically-acclaimed album with Bobby Womack, and sessions with Carlos Santana.
Towards the end of the 70s, Szabo had begun to travel back to his homeland, instigating a renewed interest in his Hungarian heritage. His recorded output had become uneven by this time, in part as a result of a long-standing struggle with heroin. Seeking some respite from his problems, Szabo joined the Church of Scientology, enrolling in their drug rehabilitation program and signing on with their management agency; the guitarist's final recording, Femme Fatale - done in collaboration with fellow Scientologist Chick Corea - followed in 1979. A brief resurgence of musical activity was managed at the start of the 80s, but in 1981 Szabo returned again to Hungary. The following year he died of liver and kidney failure in a Budapest hospital.
Brother: John Szabo
Wife: Alicia Solari (m. 1959, div. 1977)
Son: Blaise Szabo (b. 1965)

Do you know something we don't?
Submit a correction or make a comment about this profile

Copyright ©2019 Soylent Communications