Shepard Smith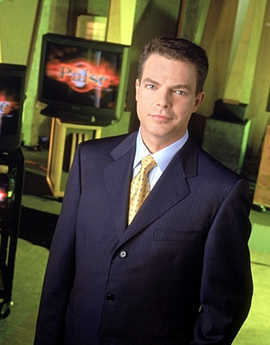 AKA David Shepard Smith, Jr.
Born: 14-Jan-1964
Birthplace: Holly Springs, MS

Gender: Male
Race or Ethnicity: White
Sexual orientation: Gay [1]
Occupation: TV Personality
Nationality: United States
Executive summary: Fox News anchor
At 12:50am on election night 2006, the Democrats had already taken control of the House of Representatives, but the fate of the Republican-controlled Senate had yet to be determined. During Fox's impartial coverage, anchorman Shepard Smith extemporized a brief monologue before throwing to a commercial:
"Do we, as Americans, need a serious talk? There is -- No matter how you feel about President George W. Bush, you must know by now that he believes what he's saying. And I, I think there are few on either side of the political fence who would say anything other than 'When he says he believes this comes down to civilization here, he means it.' Does someone need to look the American public in the eye with that in mind, and say 'This is a call. This -- It's time to step up and realize what the cost of a loss is in the War on Terror. If you lose the War on Terror, you lose the civilization as we know it.' That's what he said, that's what he believes. Have we been properly motivated? Have we been told it's time to stand up and sacrifice for this nation and for this way of life, or have they just been rhetorical overloads? Who talks and what do they say? And is the Senate gone? Stay tuned."
---
[1] Came out in an interview with The Huffington Post on October 17, 2016.

Father: David Shepard Smith, Sr.
Mother: Dora Ellen Anderson
Wife: Virginia Donald (m. 1987, div. c. 1993)


High School: Marshall Academy, Holly Springs, MS
University: University of Mississippi


Battery struck reporter Maureen Walsh with his car, Tallahassee, FL (17-Nov-2000), felony charge reduced to misdemeanor


TELEVISION
Fox News Channel
The Pulse
A Current Affair


FILMOGRAPHY AS ACTOR
Volcano (25-Apr-1997) · Himself





Requires Flash 7+ and Javascript.



Do you know something we don't?
Submit a correction or make a comment about this profile






Copyright ©2019 Soylent Communications