Ned Kelly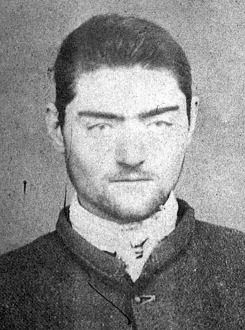 AKA Edward Kelly
Born: Jun-1855
Birthplace: Beveridge, Australia
Died: 11-Nov-1880
Location of death: Melbourne, Australia
Cause of death: Execution
Remains: Buried, Pentridge Prison Cemetery, Melbourne, Australia

Gender: Male
Religion: Roman Catholic
Race or Ethnicity: White
Occupation: Criminal
Nationality: Australia
Executive summary: Iron-clad Australian outlaw
His father, John "Red" Kelly, was an Irishman who had been exiled to the Tasmanian penal colony for a seven year sentence in 1841, for crimes now unclear. Like many prisoners there, when his prison term was finished he remained in Australia. Young Ned Kelly spent his childhood on his father's dairy farm, but his adulthood began when he was 12. His father died, and he left school to help support his mother and seven younger siblings. By his 14th year he was considered a miscreant by local police, and through adolescence he was arrested for two assaults, then sentenced to three years in prison as an accomplice to horse theft at the age of sixteen. His mother remarried while Kelly was in prison, and upon release he went into the cattle rustling business with his stepfather and his brother Jim.
The chain of events that led to his fame and early demise began in 1878. A constable claimed to have been bushwhacked and injured by Kelly, his brother, and a few of his gangmates, while the Kellys always maintained that the officer had appeared at their doorstep in a drunken state and made rude comments to Kelly's sister, leading to a fistfight. Whatever the pretext, four lawmen were sent to apprehend Kelly -- to kill him, Kelly surmised, as their horses wore special straps designed for hauling corpses. So Kelly went on the offensive, and when the dust settled the bodies of three dead policemen were carried in those straps.
Kelly and his men disappeared into the bush, and in the huge manhunt that followed, hundreds of police officers were granted "emergency powers" to search any premises without warrants. This only made the police unpopular, and helped cast the public mood behind the Kellys. The outlaws gained further public esteem, and even help from locals while on the run, after police had Kelly's mother imprisoned on charges seen widely as retaliation for his crimes. For nearly two years as fugitives, the Kelly gang supported themselves with occasional bank robberies, and armored themselves with bullet proof plates Kelly himself made from stolen plowshares. In their bank hold-ups the Kelly gang killed no-one and treated workers and witnesses with unexpected courtesy. In an 1879 robbery of the bank at Jerilderie, Kelly demanded all the records of local mortgages -- and burned the documents, securing his already sizable stature as a folk hero.
His brother was killed in a police siege at a small-town hotel where the gang had holed up, and after the gunfight Kelly famously advanced on police, gun in hand and clad in his handmade body armor. Police shot him in his un-armored feet. His trial was speedy, as the judge had announced even before Kelly was captured that he would see him hang. When sentenced to death, he responded to the judge, "I'll see you where I'm going." Asked at the gallows if he had any last words, according to legend he said, "Such is life."
Father: John Kelly (criminal, b. 20-Feb-1820, d. 27-Dec-1866)
Mother: Ellen Quinn Kelly (b. 1832, m. 18-Nov-1850, d. 27-Mar-1933)
Father: George King (stepfather, cattle rustler)
Sister: Mary Jane Kelly (b. 25-Feb-1851, d. 1851)
Sister: Anne Kelly Gunn (b. Nov-1853, d. 11-Nov-1872)
Sister: Margaret Kelly Skillion ("Maggie", b. 15-Jun-1857, d. 22-Jan-1896)
Brother: James Kelly ("Jim", criminal, b. 31-Jul-1859, d. 18-Oct-1946)
Brother: Daniel Kelly (criminal, b. 1-May-1861, d. 28-Jun-1880)
Sister: Catherine Ada Kelly Foster (anti-death penalty activist, b. 12-Jun-1863, d. 6-Oct-1898)
Sister: Grace Kelly (b. 10-Aug-1865, d. 3-May-1940)
Sister: Ellen King (half-sister)
Brother: John King (half-brother)
Sister: Alice King (half-sister)

Horse Theft
Murder 25-Oct-1878, Stringybark Creek, Aus. (three policemen)
Bank Robbery 10-Dec-1878, Euroa, Aus.
Bank Robbery 8-Feb-1879, Jerilderie, Aus.
Robbery 27-Jun-1880, Railroad station, Glenrowan, Aus.
Shot 28-Jun-1880, Glenrowan, Aus.
Exhumed 2008
Irish Ancestry

Do you know something we don't?
Submit a correction or make a comment about this profile

Copyright ©2019 Soylent Communications