Tim Russert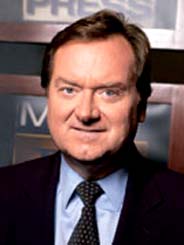 AKA Timothy John Russert, Jr.
Born: 7-May-1950
Birthplace: Buffalo, NY
Died: 13-Jun-2008
Location of death: Washington, DC
Cause of death: Heart Attack [1]
Remains: Buried, Rock Creek Cemetery, Washington, DC

Gender: Male
Religion: Roman Catholic
Race or Ethnicity: White
Sexual orientation: Straight
Occupation: Talk Show Host, Journalist
Nationality: United States
Executive summary: Meet the Press
Russert played basketball as a kid, and for his interest in journalism he credited Sister Mary Lucille at the St. Bonaventure school. At 13, Russert was the editor of the school's paper, The Bonette. He worked his way through law school, and later lawyered for New York Governor Mario Cuomo and Senator Daniel Patrick Moynihan before switching to journalism. Russert joined NBC News in 1984, and in 1985 he negotiated Pope John Paul II's first appearance on The Today Show. Russert's first on-air appearance for NBC News came in 1990. A year later, he became host of the long-running Meet the Press.
Some viewers said that of all the Sunday squawk journalists, Russert was the one who asked the hardest hardball questions. In reality, of course, the expected questions were asked and the answers were slippery, but Russert could be a bit stubborn at times and he seemed to listen earnestly for answers amidst the double-talk. He was the Sunday host who looked like a gruff reporter instead of a TV star, and looking the part carried his credibility.
He was NBC's Washington Bureau Chief from 1988 until his death, and was concurrently a senior vice president of the network.
---
[1] Coronary thrombosis.

Father: Tim Russert, Sr. ("Big Russ", sanitation department foreman, d. 24-Sep-2009)
Mother: Elizabeth ("Betty", d. 2005)
Sister: Betty Ann
Sister: Kathleen
Sister: Patricia
Wife: Maureen Orth (writer)
Son: Luke Russert (TV Personality, b. 22-Aug-1985)


High School: Canisius High School, Buffalo, NY (1968)
University: BA Political Science, John Carroll University, Cleveland, OH (1972)
Law School: JD, Cleveland-Marshall College of Law (1976)


NBC Senior VP (1984-2008)
Congressional Staff Asst. to Sen. Daniel Patrick Moynihan (1977-82)
Newseum Trustee
Boys & Girls Clubs of America Greater Washington Board
Gridiron Club
John Carroll Society Honorary Member
Reporters Committee for Freedom of the Press Steering Committee
Association of the Bar of the City of New York
Wedding: Alan Greenspan and Andrea Mitchell (1997)
Emmy 2005 (for coverage of the funeral of Ronald Reagan)
Broadcasting and Cable Hall of Fame 23-Oct-2006
Roast: Tim Russert (1993)
Roast: Don Imus (1999)
Roast: Tom Brokaw (2002)
Roast: Bob Woodruff (2007)
Funeral: Tim Russert (2008)
Irish Ancestry


TELEVISION
Meet the Press Moderator (1991-2008)


Author of books:
Big Russ & Me (2004, memoir)
Wisdom of Our Fathers (2006, biography, memoir)





Requires Flash 7+ and Javascript.



Do you know something we don't?
Submit a correction or make a comment about this profile






Copyright ©2019 Soylent Communications