Ottmar Mergenthaler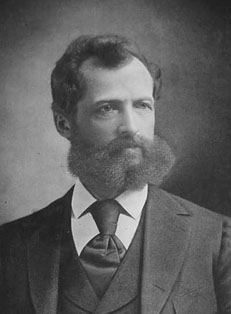 Born: 11-May-1854 [1]
Birthplace: Hachtel, Germany
Died: 28-Oct-1899
Location of death: Baltimore, MD
Cause of death: Tuberculosis
Remains: Buried, Loudon Park Cemetery, Baltimore, MD

Gender: Male
Religion: Lutheran
Race or Ethnicity: White
Sexual orientation: Straight
Occupation: Inventor, Engineer
Nationality: United States
Executive summary: Automated typesetting
Ottmar Mergenthaler was born and raised in Germany, where he apprenticed as a watchmaker, but in his 18th year he came to America to escape conscription. He first worked in a machinist's shop in Washington, DC, until the shop and Mergenthaler relocated to Baltimore, where business prospects seemed better. He became intrigued with the printing process in 1876, when a customer of the shop brought in a broken mechanism which, after Mergenthaler's repairs, printed characters in lithographic ink onto paper strips for later transferal to lithographic stone for printing. Mergenthaler thought he could design a more reliable and easier system, and after failed attempts over the next several years, he did.
In 1886 he introduced the linotype line casting machine, so named because it set an entire line of type at a time. Since Johannes Gutenberg's invention of movable type more than 400 years earlier, type had been set one character at a time by manual laborers who physically inserted raised-and-reverse metal type; but with Mergenthaler's linotype machine typesetting and casting was performed at a keyboard. From the operator's keystrokes, letters and spaces were arranged by the mechanism into a justified line, and from a reservoir of molten metal held at 550° Fahrenheit (288° Celsius), rectangular slugs of type were cast by the machine in column-width, which were then set line-by-line for pressing.
Mergenthaler's first major customer was The New York Tribune, which published its first linotyped edition on 3 July 1886, and the first book published by linotype was The Tribune Book of Open-Air Sports in 1887. By the time of Mergenthaler's death a dozen years later, more than 7,000 linotype machines were in use at newspapers and printing houses worldwide.
Thomas Edison called it "the eighth wonder of the world", but Mergenthaler's invention led to unemployment for thousands of journeyman typesetters. They were replaced by a much smaller number of nimble-fingered typers who were paid far less but, with the machine's help, could typeset pages many times more quickly. The linotype's advantages, however, were profound -- it ushered in the modern era of publishing, allowed newspapers to greatly expand in page count, and led to a proliferation of affordable books and magazines in the decades that followed.
Diagnosed with tuberculosis in 1894, the inventor spent his last several years in several distant warm-weather states before returning to Baltimore, where he died at only 44 years of age in 1899. Linotype machines similar in principle to Mergenthaler's original became the industry standard until the advent of photo-typesetting and later computerized typesetting in the 1970s. His Mergenthaler Linotype Company, founded in 1886 to market the machine, remains in business as Linotype GmbH, a German firm owned by Monotype Corporation.
---
[1] 10 May or 14 May, according to various sources.

Father: Johann Georg Mergenthaler (teacher)
Mother: Rosina Ackermann Mergenthaler
Wife: Emma Frederica Lachenmayer Mergenthaler (b. 11-Feb-1861, m. 11-Sep-1881, d. 14-May-1894, fourchildren)
Son: Eugene Mergenthaler
Son: Fritz Mergenthaler (d. 1910)
Son: Herman Mergenthaler
Daughter: Pauline Mergenthaler


National Inventors Hall of Fame 1982
John Scott Medal
Elliott Cresson Medal of the Franklin Institute
Mergenthaler Linotype Co. Founder & President (1886-96)
Liederkranz Society
German Society of Maryland
Naturalized US Citizen 1878
German Ancestry


Author of books:
Biography of Ottmar Mergenthaler and History of the Linotype, Its Invention and Development (1898, biography)






Do you know something we don't?
Submit a correction or make a comment about this profile






Copyright ©2019 Soylent Communications