Linda Chavez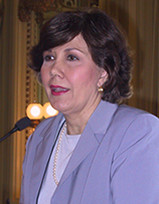 Born: 17-Jun-1947
Birthplace: Albuquerque, NM

Gender: Female
Religion: Roman Catholic
Race or Ethnicity: Hispanic
Sexual orientation: Straight
Occupation: Activist, Pundit, Government
Party Affiliation: Republican [1]
Nationality: United States
Executive summary: Neoconservative activist, pundit
In 1986 conservative pundit Linda Chavez ran for an open U.S. Senate seat in Maryland, against Democrat Barbara Mikulski. Chavez apparently expended a lot of effort on hinting that her opponent was a dyke, inviting "San Francisco-style Democrat" Mikulski "to come out of the closet and debate the issues important to the people of Maryland." Chavez lost big.
In January 2001, Chavez was tapped to be George W. Bush's Secretary of Labor. But she had to withdraw less than a week later after she became politically untenable; apparently, the Labor Secretary aspirant had hired an undocumented alien as a housekeeper. A few days after, Chavez lamented to Wolf Blitzer:
"I think organized labor -- I think quite mistakenly -- somehow thought that I was going to be their worst nemesis. I had a very nice talk with John Sweeney this morning, by the way, and I don't think [...] that would have been the case. I think I would have actually been very helpful in trying to bridge a gap that exists between the Republican Party and organized labor."
Fundraising letter, two years later:
My name is Linda Chavez. You may remember me as President George W. Bush's original choice for Secretary of Labor. Big Labor Bosses like the AFL-CIO's John Sweeney pulled out all the stops to defeat my nomination. After all, members of the media were calling me "Big Labor's Worst Nightmare." And they were right! I'm completely opposed to the special privileges given to Big Labor unions [...] powers that no other private organizations have. [...] We can cripple liberal politics in this country by passing the Workers' Freedom of Choice Act. If we stop now, the terrorists win.
That's right, she said it: unless we politically cripple the liberals, the terrorists win.
During a June 2004 discussion with Dennis Miller about the federal minimum wage, the former Labor Secretary nominee categorically argued against any increase in the wage. But during the interview Chavez revealed her ignorance of a simple fact: the current amount of the federal minimum wage: "You know, I don't know what it is. It's $5-something -- $5.65, something like that -- an hour." Turns out it was actually $5.15, just as it was when she was the Secretary of Labor nominee, just as it had been for 4 years before that.
---
[1] Switched from Democrat to Republican in 1985.

Father: Rudy Chavez (d. 1978)
Mother: Velma McKenna
Brother: Dickie (half-brother)
Brother: Michael (half-brother)
Sister: Pamela (half-sister, d. 1952)
Sister: Wendy (b. 1952)
Husband: Christopher Gersten (m. 15-Jun-1967, Jewish)
Son: David Gersten
Son: Pablo Chavez Gersten
Son: Rudy Gersten


High School: St. John's Cathedral High School, Denver, CO
University: BA English, University of Colorado (1970)
University: University of California at Los Angeles
University: University of Maryland


Center for Equal Opportunity President and Founder
USA Today Columnist
American Educator Editor (1977-83)
Crisis Contributing Editor
Member of the Board of ABM Industries (1997-)
Member of the Board of Greyhound (1995-)
Member of the Board of Pilgrim's Pride (2004-)
American Civil Rights Union Policy Board
Bruin Alumni Association Advisory Board Member
Capital Research Center
Catholic League for Religious and Civil Rights Board of Advisors
Center of the American Experiment Board of Advisors
Center for Military Readiness Board of Advisors
Council on Foreign Relations
Federalist Society
George W. Bush for President
Independent Women's Forum Board of Advisors
Manhattan Institute for Policy Research Research Fellow (1989-84)
National Campaign to Prevent Teen Pregnancy Board of Directors
Project for the New American Century
Stop Union Political Abuse
US English President (1987-88, resigned)
American Federation of Teachers
Congress of Racial Equality
NAACP
Library of Congress Living Legend 2000
Irish Ancestry Maternal
Mexican Ancestry Paternal


TELEVISION
To The Contrary


Official Website:
http://www.lindachavez.org/

Author of books:
Out of the Barrio: Toward a New Politics of Hispanic Assimilation (1991, nonfiction)
An Unlikely Conservative: The Transformation of an Ex-Liberal (2002, memoir)
Betrayal: How Union Bosses Shake Down Their Members and Corrupt American Politics (2004, nonfiction)





Requires Flash 7+ and Javascript.



Do you know something we don't?
Submit a correction or make a comment about this profile






Copyright ©2019 Soylent Communications