Frank Rosolino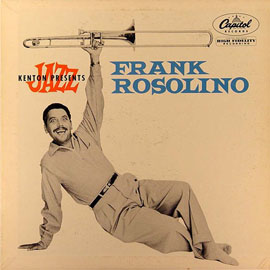 Born: 20-Aug-1926
Birthplace: Detroit, MI
Died: 26-Nov-1978
Location of death: Los Angeles, CA
Cause of death: Suicide

Gender: Male
Race or Ethnicity: White
Sexual orientation: Straight
Occupation: Jazz Musician
Nationality: United States
Executive summary: Jazz trombonist, Turn Me Loose!
Military service: 86th Division Band (1944-1946, stationed in the Phillipines)
Played with Stan Kenton's orchestra from 1952 to 1954. Though best known for his work in big bands, Rosolino also released a handful of solo albums, showcasing his trombone technique and his inimitably nasal voice.
After learning that Rosolino had been carrying on an affair, his third wife committed suicide via carbon monoxide in their garage. Rosolino was unable to cope with her death, so one night in late November he shot both of his young sons, killing one and blinding the other, before killing himself.
Wife: (two children; d. suicide)
Son: Justin (b. 1969, d. 26-Nov-1978 murder)
Son: Jason (b. 1971)
Mistress: Diane
Brother: Russell Rosolino
Brother: Gasper Rosolino

High School: Miller High School, Detroit, MI

Shot: Self-Inflicted (26-Nov-1978)
Murder (26-Nov-1978)
Sicilian Ancestry

FILMOGRAPHY AS ACTOR
I Want to Live! (18-Nov-1958) · Jazz Combo

Do you know something we don't?
Submit a correction or make a comment about this profile

Copyright ©2019 Soylent Communications