Paul Laxalt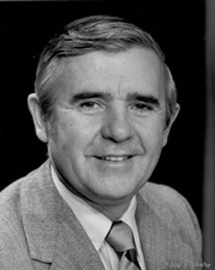 AKA Paul Dominique Laxalt
Born: 2-Aug-1922
Birthplace: Carson City, NV
Died: 6-Aug-2018
Location of death: McLean, VA
Cause of death: unspecified
Remains: Buried, Arlington National Cemetery, Arlington, VA

Gender: Male
Religion: Roman Catholic
Race or Ethnicity: White
Sexual orientation: Straight
Occupation: Politician
Party Affiliation: Republican
Nationality: United States
Executive summary: US Senator from Nevada, 1974-87
Military service: US Army
Served as election campaign chairman for Ronald Reagan in 1976, 1980, and 1984.
In 1971, former Senator Laxalt wrote Nixon, requesting a Presidential pardon on behalf of Jimmy Hoffa:
Dear President Dick:

The other day I had an extended discussion with Al Dorfman of the Teamsters, with whom I've worked closely for the past few years[...] This discussion, which described in detail the personal vendetta that Bobby Kennedy had against Hoffa, together with other information provided me over the years, leads me to the inevitable conclusion that Jim is a victim of Kennedy's revenge.

[...]

While I don't know Mr. Hoffa personally, I have had occasion to have a great deal of contact with Mr. Dorfman and the members of the Executive Committee of the Teamsters. As you may know, their loans to Nevada resort hotels represent by far the greatest investment in Nevada. Their activities have been "above board" at all times and they have made a material contribution to our state.
After Laxalt retired from the Senate he promptly set up shop as a Washington lobbyist, creating the Paul Laxalt Group.

Father: Dominique Laxalt (shepherd)
Mother: Therese Alpetche
Brother: Robert (b. 1923, d. 2001)
Brother: Peter
Brother: John
Sister: Sister Mary Robert (nun)
Sister: Marie Aurelie Bini
Wife: Jackalyn Ross (m. Jun-1946, div. 1972, d. 17-Jul-2004, four daughters, one son)
Daughter: Gail Laxalt Johnson
Daughter: Sheila Laxalt Lokan
Son: John Paul Laxalt
Daughter: Michelle Laxalt (Washington lobbyist, mistress of Sen. Pete Domenici)
Son: Kevin Marie Laxalt
Daughter: Kathleen Laxalt ("Neena")
Wife: Carol (m. 1976, until his death, one daughter)
Daughter: Denise Laxalt


High School: (Carson City, NV)
University: Santa Clara University (1940-43)
University: BA, University of Denver (1949)
Law School: JD, University of Denver (1949)


US Senator, Nevada (18-Dec-1974 to 3-Jan-1987)
Governor of Nevada (2-Jan-1967 to 4-Jan-1971)
Lieutenant Governor of Nevada (1963-67)
Alfalfa Club
American Bar Association
American Legion
Bush-Cheney '04
Cantor for Congress
Fraternal Order of Eagles
Elizabeth Dole Committee
Every Republican is Crucial PAC
Friends for Harry Reid
Friends of George Allen
Friends of Senator D'Amato 1998 Committee
JD Hayworth for Congress
Lindsey Graham for Senate
McCain for Senate '98
Quayle 2000
Reagan-Bush '84 Chairman
Republican National Committee Chairman
Veterans of Foreign Wars
Funeral: Gerald Ford (2007)
Basque Ancestry Paternal


Author of books:
A Changing America (1979, nonfiction, ed. with Richard S. Williamson)
Nevada's Paul Laxalt: A Memoir (2000, memoir)





Requires Flash 7+ and Javascript.



Do you know something we don't?
Submit a correction or make a comment about this profile






Copyright ©2019 Soylent Communications