Charles James Lever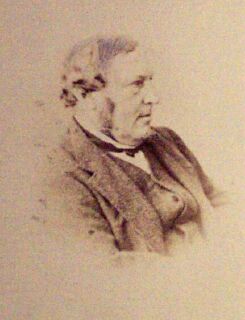 Born: 31-Aug-1806
Birthplace: Dublin, Ireland
Died: 1-Jun-1872
Location of death: Trieste, Austria-Hungary
Cause of death: unspecified

Gender: Male
Race or Ethnicity: White
Sexual orientation: Straight
Occupation: Novelist
Nationality: Ireland
Executive summary: Charles O'Malley
Irish novelist, second son of James Lever, a Dublin architect and builder, born in the Irish capital on the 31st of August 1806. His descent was purely English. He was educated in private schools, where he wore a ring, smoked, read novels, was a ringleader in every breach of discipline, and behaved generally like a boy destined for the navy in one of Captain Marryat's novels. His escapades at Trinity College, Dublin (1823-28), where he took the degree of M.B. in 1831, form the basis of that vast cellarage of anecdote from which all the best vintages in his novels are derived. The inimitable Frank Webber in Charles O'Malley (spiritual ancestor of Foker and Mr. Bouncer) was a college friend, Robert Boyle, later on an Irish parson. Lever and Boyle sang ballads of their own composing in the streets of Dublin, after the manner of Fergusson or Oliver Goldsmith, filled their caps with coppers and played many other pranks embellished in the pages of O'Malley, Con Cregan and Lord Kilgobbin. Before seriously embarking upon the medical studies for which he was designed, Lever visited Canada as an unqualified surgeon on an emigrant ship, and has drawn upon some of his experiences in Con Cregan; Arthur O'Leary and Roland Cashel. Arrived in Canada he plunged into the backwoods, was affiliated to a tribe of Indians and had to escape at the risk of his life, like his own Bagenal Daly.
Back in Europe, he travelled in the guise of a student from Göttingen to Weimar (where he saw Goethe), then to Vienna; he loved the German student life with its beer, its fighting and its fun, and several of his merry songs, such as "The Pope he loved a merry life" (greatly envied by Titmarsh), are on Student-lied models. His medical degree admitted him to an appointment from the Board of Health in Co. Clare and then as dispensary doctor at Port Stewart, but the liveliness of his diversions as a country doctor seems to have prejudiced the authorities against him. In 1833 he married his first love, Catherine Baker, and in February 1837, after varied experiences, he began running The Confessions of Harry Lorrequer through the pages of the recently established Dublin University Magazine. During the previous seven years the popular taste had declared strongly in favor of the service novel as exemplified by Frank Mildmay, Tom Cringle, The Subaltern, Cyril Thornton, Stories of Waterloo, Ben Brace and The Bivouac; and Lever himself had met William Hamilton Maxwell, the titular founder of the genre. Before Harry Lorrequer appeared in volume form (1839), Lever had settled on the strength of a slight diplomatic connection as a fashionable physician in Brussels (16, Rue Ducale). Lorrequer was merely a string of Irish and other stories good, bad and indifferent, but mostly rollicking, and Lever, who strung together his anecdotes late at night after the serious business of the day was done, was astonished at its success. "If this sort of thing amuses them, I can go on for ever." Brussels was indeed a superb place for the observation of half-pay officers, such as Major Monsoon (Commissioner Meade), Captain Bubbleton and the like, who terrorized the tavernes of the place with their endless peninsular stories, and of English society a little damaged, which it became the specialty of Lever to depict. He sketched with a free hand, wrote, as he lived, from hand to mouth, and the chief difficulty he experienced was that of getting rid of his characters who "hung about him like those tiresome people who never can make up their minds to bid you good night." Lever had never taken part in a battle himself, but his next three books, Charles O'Malley (1841), Jack Hinton and Tom Burke of Ours (1843), written under the spur of the writer's chronic extravagance, contain some splendid military writing and some of the most animated battle-pieces on record. In pages of O'Malley and Tom Burke Lever anticipates not a few of the best effects of Marbot, Thiébaut, Lejeune, Griois, Seruzier, Burgoyne and the like. His account of the Douro need hardly fear comparison, it has been said, with Napier's. Condemned by the critics, Lever had completely won the general reader from the Iron Duke himself downwards.
In 1842 he returned to Dublin to edit the Dublin University Magazine, and gathered round him a typical coterie of Irish wits (including one or two hornets) such as the O'Suilivans, Archer Butler, W. Carleton, Sir William Wilde, Canon Hayman, D. F. McCarthy, McGlashan, Dr. Kenealy and many others. In June 1842 he welcomed at Templeogue, 4 miles southwest of Dublin, the author of the Snob Papers on his Irish tour (the Sketch Book was, later, dedicated to Lever). William Makepeace Thackeray recognized the fund of Irish sadness beneath the surface merriment. "The author's character is not humour but sentiment. The spirits are mostly artificial, the fond is sadness, as appears to me to be that of most Irish writing and people." The Waterloo episode in Vanity Fair was in part an outcome of the talk between the two novelists. But the "Galway pace", the display he found it necessary to maintain at Templeogue, the stable full of horses, the cards, the friends to entertain, the quarrels to compose and the enormous rapidity with which he had to complete Tom Burke, The O'Donoghue and Arthur O'Leary (1845), made his native land an impossible place for Lever to continua in. Templeogue would soon have proved another Abbotsford. Thackeray suggested London. But Lever required a new field of literary observation and anecdote. His sève originel was exhausted and he decided to renew it on the continent. In 1845 he resigned his editorship and went back to Brussels, where he started upon an unlimited tour of central Europe in a family coach. Now and again he halted for a few months, and entertained to the limit of his resources in some ducal castle or other which he hired for an off season. Thus at Riedenburg, near Bregenz, in August 1846, he entertained Charles Dickens and his wife and other well-known people. Like his own Daltons or Dodd Family Abroad he travelled continentally, from Carlsruhe to Como, from Como to Florence, from Florence to the Baths of Lucca and so on, and his letters home are the litany of the literary remittance man, his ambition now limited to driving a pair of novels abreast without a diminution of his standard price for serial work ("twenty pounds a sheet"). In the Knight of Gwynne, a story of the Union (1847), Con Cregan (1840), Roland Cashel (1850) and Maurice Tiernay (1852) we still have traces of his old manner; but he was beginning to lose his original joy in composition. His fond of sadness began to cloud the animal joyousness of his temperament. Formerly he had written for the happy world which is young and curly and merry; now he grew fat and bald and grave. "After 38 or so what has life to offer but one universal declension. Let the crew pump as hard as they like, the leak gains every hour." But, depressed in spirit as he was, his wit was unextinguished; he was still the delight of the salons with his stories, and in 1867, after a few years experience of a similar kind at Spezia, he was cheered by a letter from Lord Derby offering him the more lucrative consulship of Trieste. "Here is six hundred a year for doing nothing, and you are just the man to do it." The six hundred could not atone to Lever for the lassitude of prolonged exile. Trieste, at first "all that I could desire", became with characteristic abruptness "detestable and damnable." "Nothing to eat, nothing to drink, no one to speak to." "Of all the dreary places it has been my lot to sojourn in this is the worst" (some references to Trieste will be found in That Boy of Norcott's, 1869). He could never be alone and was almost morbidly dependent upon literary encouragement. Fortunately, like Sir Walter Scott, he had unscrupulous friends who assured him that his last efforts were his best. They include The Fortunes of Glencore (1857), Tony Butler (1865), Luttrell of Arran (1865), Sir Brooke Fosbrooke (1866), Lord Kilgobbin (1872) and the table-talk of Cornelius O'Dowd, originally contributed to Blackwood. His depression, partly due to incipient heart disease, partly to the growing conviction that he was the victim of literary and critical conspiracy, was confirmed by the death of his wife (23rd April 1870), to whom he was tenderly attached. He visited Ireland in the following year and seemed alternately in very high and very low spirits. Death had already given him one or two runaway knocks, and, after his return to Trieste, he failed gradually, dying suddenly, however, and almost painlessly, from failure of the heart's action on the 1st of June 1872. His daughters, one of whom, Sydney, is believed to have been the real author of The Rent in a Cloud (1869), were well provided for.
Anthony Trollope praised Lever's novels highly when he said that they were just like his conversation. He was a born raconteur, and had in perfection that easy flow of light description which without tedium or hurry leads up to the point of the good stories of which in earlier days his supply seemed inexhaustible. With little respect for unity of action or conventional novel structure, his brightest books, such as Lorrequer, O'Malley and Tom Burke, are in fact little more than recitals of scenes in the life of a particular "hero", unconnected by any continuous intrigue. The type of character he depicted is for the most part elementary. His women are mostly rouées, romps or Xanthippes; his heroes have too much of the Pickle temper about them and fall an easy prey to the serious attacks of Poe or to the more playful gibes of Thackeray in Phil Fogarty or Bret Harte in Terence Deuville. This last is a perfect bit of burlesque. Terence exchanges nineteen shots with the Hon. Captain Henry Somerset in the glen. "At each fire I shot away a button from his uniform. As my last bullet shot off the last button from his sleeve, I remarked quietly, 'You seem now, my lord, to be almost as ragged as the gentry you sneered at', and rode haughtily away." And yet these careless sketches contain such haunting creations as Frank Webber, Major Monsoon and Micky Free, "the Sam Weller of Ireland." Falstaff is alone in the literature of the world; but if ever there came a later Falstaff, Monsoon was the man. As for Baby Blake, is she not an Irish Di Vernon? The critics may praise Lever's thoughtful and careful later novels as they will, but Charles O'Malley will always be the pattern of a military romance. Superior, it is sometimes claimed, in construction and style, the later books approximate it may be thought to the good ordinary novel of commerce, but they lack the extraordinary qualities, the incommunicable "go" of the early books -- the élan of Lever's untamed youth. Artless and almost formless these productions may be, but they represent to us, as very few other books can, that pathetic ejaculation of Lever's own -- "Give us back the wild freshness of the morning!" We know the novelist's teachers, Maxwell, Napier, the old-fashioned compilation known as Victoires, conquêtes et désastres des Français (1835), and the old buffers at Brussels who emptied the room by uttering the word "Badajos." But where else shall we find the equals of the military scenes in O'Malley and Tom Burke, or the military episodes in Jack Hinton, Arthur O'Leary (the story of Aubuisson) or Maurice Tiernay (nothing he ever did is finer than the chapter introducing "A remnant of Fontenoy")? It is here that his true genius lies, even more than in his talent for conviviality and fun, which makes an early copy of an early Lever (with Phiz's illustrations) seem literally to exhale an atmosphere of past and present entertainment. it is here that he is a true romancist, not for boys only, but also for men.
Lever's lack of artistry and of sympathy with the deeper traits of the Irish character have been stumbling blocks to his reputation among the critics. Except to some extent in The Martins of Cro'Martin (1856) it may be admitted that his portraits of Irish are drawn too exclusively from the type depicted in Sir Jonah Barrington's Memoirs and already well known on the English stage. He certainly had no deliberate intention of "lowering the national character." Quite the reverse. Yet his posthumous reputation seems to have suffered in consequence, in spite of all his Gallic sympathies and not unsuccessful endeavors to apotheosize the "Irish Brigade."
Father: James Lever (architect)
Wife: Catherine Backer (m. 1833, d. 23-Apr-1870)
Daughter: Sydney

High School: Wrights Academy, Dublin, Ireland
University: Trinity College Dublin

English Ancestry
Risk Factors: Depression

Do you know something we don't?
Submit a correction or make a comment about this profile

Copyright ©2019 Soylent Communications