Fred Saberhagen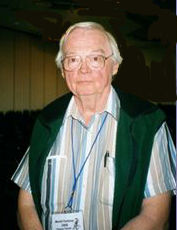 AKA Frederick Thomas Saberhagen
Born: 18-May-1930
Birthplace: Chicago, IL
Died: 29-Jun-2007
Location of death: Albuquerque, NM
Cause of death: unspecified

Gender: Male
Race or Ethnicity: White
Sexual orientation: Straight
Occupation: Novelist
Nationality: United States
Executive summary: Berserker series
Military service: USAF (1951-55)
Science fiction and fantasy author Fred Saberhagen is best known for his Berserker novels, featuring interstellar killing machines programmed to destroy all life. Other popular works include his vampire novels, his Book of the Gods series, and a variety of historical fantasy novels based around such characters as Hercules, Abraham Lincoln, and Sherlock Holmes.
Born in Chicago, Saberhagen served early in the US Air Force, followed by work as a civilian electronics technician. As an editor for the Encyclopedia Britannica (1967-73) he wrote its original entry on science fiction. Other articles included various topics in the fields of science and technology. His first science fiction tale appeared in Galaxy magazine in 1961, and his first novel, The Golden People, found publication in 1964. The publication of Berserker in 1967 began his popular long-running science fiction series, recently optioned to New Line Cinema. (Note that Berserker is also a registered trademark.)
From 1982 to 1989 Fred and Joan Saberhagen designed, implemented, and distributed computer games with the intent to bring interactive fiction, based on his novels, to the computer. The enterprise, which produced such games as Berserker, Star Web, and Descent Freespace: The Great War, was initially funded by Baen Books.
Spanning a career of more than forty years, Saberhagen's work was translated into several different languages, including Belorrussian, Czech, French, German, Hebrew, Italian, Japanese, Polish, Russian, Spanish, and Swedish.
Wife: Joan Dorothy Spicci (m. 29-Jun-1968, one daughter, two sons)
Daughter: Jill
Son: Eric
Son: Thomas

High School: Lane Tech High School, Chicago, IL
University: Wright Junior College, Chicago, IL

Motorola Electronics Technician (1955-62)
Risk Factors: Prostate Cancer

Official Website:
http://www.berserker.com/
Author of books:
The Golden People (1964)
The Water of Thought (1965)
The Veils of Azlaroc (1978)
Love Conquers All (1979)
The Mask of the Sun (1979)
Earth Descended (1981)
Octagon (1981)
Specimens (1981)
Coils (1982, with Roger Zelazny)
Pawn to Infinity (1982)
A Century of Progress (1983)
The Frankenstein Papers (1986)
Pyramids (1987)
After the Fact (1988)
The White Bull (1988)
The Black Throne (1990, with Roger Zelazny)
Bram Stoker's Dracula (1992, with James V. Hart)
Dancing Bears (1995)
Merlin's Bones (1995)
Pilgrim (1997)
The Beginning: Berserkers (1998)
The First Swords (1998)
A Coldness in the Blood (2002)
The Face of Apollo (1998)
The Face of Apollo (1998)
Ariadne's Web (1999)
The Arms of Hercules (2000)
God of the Golden Fleece (2001)
Gods of Fire and Thunder (2002)
Woundhealer's Story (1986)
Sightblinder's Story (1987)
Stonecutter's Story (1987)
Farslayer's Story (1989)
Coinspinner's Story (1989)
Mindsword's Story (1990)
Wayfinder's Story (1992)
Shieldbreaker's Story (1994)
The First Book of Swords (1983)
The Second Book of Swords (1983)
The Third Book of Swords (1984)
The Dracula Tape (1975)
The Holmes-Dracula File (1978)
An Old Friend of the Family (1979)
Thorn (1980)
Dominion (1982)
A Matter of Taste (1990)
A Question of Time (1992)
Seance for a Vampire (1994)
A Sharpness on the Neck (1996)
The Vlad Tapes (2000)
Berserker (1967)
Brother Assassin (1969, aka Brother Berserker)
Berserker's Planet (1975)
Berserker Man (1979)
The Ultimate Enemy (1979)
Berserker Wars (1981)
Berserker Base: A Collaberative Novel (1984, with Poul Anderson, Edward Bryant, Stephen R. Donaldson, Larry Niven, Connie Willis and Roger Zelazny)
The Berserker Throne (1985)
Berserker Blue Death (1985)
The Berserker Attack (1987)
Berserker Lies (1991)
Berserker Kill (1993)
Berserker Fury (1997)
Shiva in Steel (1998)
Berserker Prime (2003)
Berserker's Star (2003)
Berserker Death (2005)
Rogue Berserker (2005)

Do you know something we don't?
Submit a correction or make a comment about this profile

Copyright ©2019 Soylent Communications