Mercedes Lackey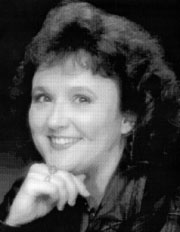 AKA Mercedes Ritchie Lackey
Born: 24-Jun-1950
Birthplace: Chicago, IL

Gender: Female
Race or Ethnicity: White
Sexual orientation: Straight
Occupation: Novelist
Nationality: United States
Executive summary: Valdemar series
Mercedes Lackey is the author of such series as the Heralds of Valdemar, Bardic Voices, Serrated Edge, Bedlam's Bard, Elemental Masters, and the Halfblood Chronicles as well as many stand-alone novels and collaborative works. Extremely prolific (she published at least eight novels in 2003 alone), her books number somewhere between 60 and 100, depending on how you choose to count her many collaborative efforts. In addition to her fantasy writing, Lackey has also written and recorded nearly fifty songs through Firebird Arts & Music, a small recording company that specializes in science fiction folk music.
Lackey was born in Chicago, but was raised mostly in the northwestern corner of Indiana, where she had what she describes as "a normal childhood". It was during her high school years in Highland, Indiana, that she developed her interest in writing, creating what she terms "pastiches of Andre Norton". Despite her interest in writing she majored in biology in college, graduating from Purdue University in 1972 with a B.S. in that field. Underwhelmed by the job opportunities afforded by her credential (after graduation she worked at everything from "artist's model to lab technician at the Mosquito Genetics Project to short-order cook"), Lackey sought training as a computer programmer. She gained a position with a major airline and relocated to Oklahoma.
Meanwhile, Lackey continued to write in her spare time, and she discovered the world of science fiction conventions (she would eventually meet future husband Larry Dixon at a small con in Meridian, Mississippi) as well as the Society for Creative Anachronisms. She was fortunate enough to meet both Marion Zimmer Bradley and C. J. Cherryh, who mentored her into the rank of professional writer, with her first novel published in 1985.
In 1992 Lackey and artist Larry Dixon were married at the Excalibur chapel in Las Vegas -- by none other than Merlin the Magician (or as he is known on his tax return, Reverend Duckworth) -- and they moved into their current home, described by Lackey as the "second weirdest house in Oklahoma". She obtained a license for wildlife rehabilitation and acquired a permanent menagerie of parrots (which may explain her preference for working during the late night and early morning hours, when birds traditionally prefer to sleep). According to Lackey, when not writing or caring for her avian charges, she enjoys beadwork, jewelry design, needlework (with favorite themes being gryphons, dragons, and other mythological creatures), and doll making. She freely admits to dressing up Barbie dolls in her free time -- elaborately costuming each one to resemble characters in her stories. The projects keep her hands busy while she works out details of plot and character, and she donates the resulting dolls to charitable auctions.
The care that Lackey devotes to envisioning her characters and their world(s) is much appreciated by her loyal fans, though critics complain that her plots have become exceedingly predictable over time, lacking original ideas for which she once was known. Lackey has also been criticized for what some feel is her ongoing fascination with torture and for her alleged over-reliance on gratuitous violence and sexual violence to define her villains. On the other hand, she has been applauded for her novels' support of tolerance toward diversity. Characters in her Valdemar set books assert, "There is no one, true way," and anyone in the books who is markedly intolerant of homosexuals turns out almost always to be a villain. Lackey has been thrice nominated for Lambda literary awards (given to acknowledge the best gay and lesbian science fiction), winning it in 1991 for her novel Magic's Price).
Husband: Larry Dixon (author)

University: BS Biology, Purdue University (1972)

Official Website:
http://www.mercedeslackey.com/
Author of books:
Alta (2004)
Exhile's Valor (2004)
The Wizard of Karres (2004, with Eric Flint and Dave Freer)
This Scepter'd Isle (2004, with Roberta Gellis)
This Rough Magic (2003, with Eric Flint and Dave Freer)
Brain Ships (2003, with Anne McCaffrey and Margret Ball)
Mad Maudlin (2003, with Rosemary Edghill)
Phoenix and Ashes (2003)
The Shadow of the Lion (2002, with Eric Flint and Dave Freer)
The Gates of Sleep (2002)
The Serpent's Shadow (2001)
Spirits White as Lightning (2001, with Rosemary Edghill)
Beyond World's End (2001, with Rosemary Edghill)
The Black Swan (1999)
Werehunter (1999)
The Other World (1999, with Mark Shepherd and Holly Lisle)
Fiddler Fair (1998)
Oathblood (1998)
Firebird (1996)
The Silver Gryphon (1996, with Larry Dixon)
The Fire Rose. 1995
The White Gryphon (1995, with Larry Dixon)
Tiger Burning Bright (1995, Marion Zimmer Bradley, Andre Norton)
Sacred Ground (1994)
The Black Gryphon (1994, with Larry Dixon)
Rediscovery (1993, with Marion Zimmer Bradley)
If I Pay Thee Not in Gold (1993, with Piers Anthony)
Magic's Promise (1990)
Magic's Price (1990)
Magic's Pawn (1989)
Oathbreakers (1989)
The Oathbound (1988)
Arrow's Fall (1988)
Arrows of the Queen (1987)
Arrow's Flight (1987)

Do you know something we don't?
Submit a correction or make a comment about this profile

Copyright ©2019 Soylent Communications