Bessie Smith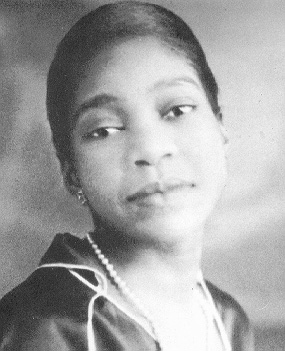 Born: 15-Apr-1894
Birthplace: Chattanooga, TN
Died: 26-Sep-1937
Location of death: Clarksdale, MS [1]
Cause of death: Accident - Automobile
Remains: Buried, Mount Lawn Cemetery, Sharon Hill, PA

Gender: Female
Race or Ethnicity: Black
Sexual orientation: Bisexual
Occupation: Singer
Nationality: United States
Executive summary: Empress of the Blues
A major influence on the development of the blues in the early twentieth century, Bessie Smith was given a challenging start to her life, raised in poverty in the then still-segregated South. She was one of seven children born to laborer and Baptist minister William Smith and his wife Laura, but had lost both parents by the age of nine and was subsequently raised by her oldest sister Viola (who was herself only a teenager and already looking after a child of her own). While still very young, Bessie, accompanied by her brother Andrew on guitar, began dancing and singing on the streets in order to supplement her sister's income as a laundry worker; this activity did not have the approval of Viola, but was encouraged by her oldest brother Clarence, who was already making his own living as a traveling entertainer. Eventually Clarence arranged an audition for his sister with the Moses Stokes Company (the group with whom he was working at the time), after which Bessie was added to the cast as a dancer.
Over the next couple years the young performer's abilities propelled her from dancer to chorus to featured soloist in quick succession, and by 1914 her popularity rivaled that of the company's featured performer Ma Rainey. That same year she formed her own act with dancer/vocalist Wayne "Buzzin" Burton in association with Park's Big Revue at the Dixie theater in Atlanta -- a city that would serve as her base of operations into the 1920s. In 1915 she joined Rainey as a member of Fat Chappelle's Rabbit's Foot Minstrels, followed by stints in Pete Werley's Florida Cotton Blossoms Minstrels Show and the Silas Green Minstrel Show in 1916. By the final years of the decade Smith had established her own Atlanta-based showcase called the Liberty Belles Revue, which featured her not only her talents as a singer and dancer but also as a male impersonator.
As a result of her touring, Smith's popularity steadily spread beyond her home territory and into the North -- enough so that in 1921 she was compelled to relocate her home base to Philadelphia, where she took up a residency at Horan's Madhouse Club for the next three years. Attempts to secure contracts with the Okeh and Black Swan labels during this time were unsuccessful, but by 1923 the mainstream interest in the blues had grown enough by this time that she was able to arrange a deal with Columbia, her first release Gulf Coast Blues b/w Down Hearted Blues appearing shortly afterwards. Both sides of the single were an enormous success, prompting Columbia to extend her one-year contract to eight (during which Smith would receive almost no return for her work). Three more hit songs followed before the end of the year -- Aggravatin' Papa, Beale Street Mama and Baby Won't You Please Come Home -- establishing the singer as one of the top blues acts in the country.
Throughout the remainder of the 1920s Smith maintained an active schedule of touring and recording, collaborating with artists such as Fletcher Henderson, James P. Johnson, Coleman Hawkins and Louis Armstrong. Her popularity continued to grow as the decade progressed -- as did her reputation as a temperamental and free-spirited individual. This fearless lack of restraint nearly cost the singer her life in 1925, when a man the singer had punched at an after-show party retaliated by knifing her on her way home (she still managed to chase after him despite the serious injury). Many of her releases during this time were credited to either Bessie Smith and Her Blue Boys (whose line-up centered around pianist Henderson) or Bessie with Her Band. In addition to her straightforward vocal work, she continued to be active in vaudeville and musical comedy, performing in Mississipi Days in 1927 and the Jazz Regiment and Late Hour Dancers in 1929. Her first (and only) screen appearance also took place in 1929 with a starring role in St. Louis Blues, a short film that was given a strong critical reception.
In spite of the success of St. Louis Blues, 1929 proved to be a difficult year for Smith -- for both personal and professional reasons. Her tumultuous relationship with husband Jack Gee had finally come to an end, and in an act of vindictiveness he removed from her the two closest people in Smith's life: her adopted son and her niece Ruby Walker. Not long afterward the least successful show of her career -- a Broadway musical called Pansy -- opened to extremely poor reviews, closing only three days later. The popularity of feature-length "talkies" had been steadily eroding interest in live vaudeville shows since their arrival in 1927, while the market crash in the fall of '29 had a detrimental impact on audience attendance to shows of any kind. Smith continued to pursue her music career throughout the depression, however, maintaining a small "bootlegging" (illegal liquor) operation on the side in order to keep herself financially stable. Her last two recordings for the ungrateful twits at Columbia, Safety Mama b/w Need a Little Sugar in My Bowl, were released in November of 1931.
After struggling through most of the next two years with no recording opportunities and severely diminished audiences, Smith's fortunes began to improve once again after recording some songs for the OKeh label towards the end of 1933 (one of these tracks, Give Me a Pigfoot, featuring Benny Goodman and Jack Teagarden as two of her backing musicians). Demand for her live performances steadily increased as the 1930s progressed, and by 1936 was such that a one-night booking to replace Billie Holiday at Connie's Inn in New York was extended into a residency of two months. Invitations to perform at prestigious venues such as the Savoy Ballroom and the Apollo in New York and Art's Café and the Wander Inn in Philadelphia followed.
In the fall of 1937 Smith accepted the role of featured performer with the Broadway Rastus show for a tour of the South. In the early hours of September 26th, while en route to Mississippi after a performance in Memphis, the singer and her current partner Richard Morgan crashed into a large truck parked on the shoulder of an unlit road; Morgan was largely unaffected by the accident, but Smith sustained a serious injury to one of her arms. An ambulance arrived to transport her to a black hospital in nearby Clarksdale, where, according to the testimony of the attending doctor, she died within 10 hours of having been admitted despite extensive medical attention. Numerous conflicting stories were subsequently circulated, one claiming that she had died before reaching the hospital because the first ambulance on the scene had chosen instead to take a white woman who had crashed into the back of Morgan's car after the initial accident. Another story claimed that Smith was refused admittance to the first hospital to which she was brought (being a whites-only facility) and died as a result of the delay in treatment; it was this latter version that was used by playwright Edward Albee in his 1959 work The Death of Bessie Smith.
---
[1] GT Thomas Hospital, Clarksdale, MS.

Father: WIlliam Smith (laborer and minister)
Mother: Laura
Brother: Clarence (musician)
Sister: Viola
Brother: Andrew
Sister: Tinnie
Sister: Lulu
Husband: Earl Love (m. 1920, died 192?)
Boyfriend: Sidney Bechet
Husband: Jack Gee (m. 1923, div. 1929)
Son: Jack Gee, Jr. (adopted)
Slept with: Arthur "Eggie" Pitts (musician)
Slept with: Lillian Simpson (dancer)
Boyfriend: Richard Morgan (bootlegger)


Bessie Smith
Blues Hall of Fame 1980
Rock and Roll Hall of Fame 1989
Grammy Hall of Fame Award for Empty Bed Bluess (1983)
Grammy Hall of Fame Award for St. Louis Blues (with Louis Armstrong) (1993)
Grammy Hall of Fame Award for Downhearted Blues (2006)





Requires Flash 7+ and Javascript.



Do you know something we don't?
Submit a correction or make a comment about this profile






Copyright ©2019 Soylent Communications