Dick Whittington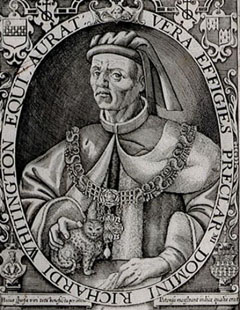 AKA Richard Whittington
Born: ?
Died: 1423
Location of death: London, England
Cause of death: unspecified

Gender: Male
Race or Ethnicity: White
Sexual orientation: Straight
Occupation: Politician
Nationality: England
Executive summary: Mayor of London
Richard Whittington, Mayor of London, described himself as son of William and Joan. This enables him to be identified as the third son of Sir William Whittington of Pauntley in Gloucestershire, a knight of good family, who married after 1355 Joan, daughter of William Mansel, and widow of Thomas Berkeley of Cubberley. Consequently Richard was a very young man when he is mentioned in 1379 as subscribing five marks to a city loan. He was a mercer by trade, and clearly entered on his commercial career under favorable circumstances. He married Alice, daughter of Sir Ivo Fitzwaryn, a Dorset knight of considerable property. Whittington sat in the common council as a representative of Coleman Street Ward, was elected alderman of Broad Street in March 1393, and served as sheriff in 1393-94. When Adam Bamme, the mayor, died in June 1397, Whittington was appointed by the king to succeed him, and in October was elected mayor for the ensuing year. He had acquired great wealth and much commercial importance, and was mayor of the staple at London and Calais. He made frequent large loans both to Henry IV and Henry V, and according to the legend, when he gave a banquet to the latter king and his queen in 1421, completed the entertainment by burning bonds for £60,000, which he had taken up and discharged. Henry V employed him to superintend the expenditure of money on completing Westminster Abbey. But except as a London commercial magnate Whittington took no great part in public affairs. He was mayor for a third term in 1406-07, and for a fourth in 1419-20. He died in March 1423. His wife had predeceased him leaving no children, and Whittington bequeathed the whole of his vast fortune to charitable and public purposes. In his lifetime he had joined in procuring Leadenhall for the city, and had borne nearly all the cost of building the Greyfriars Library. In his last year as mayor he had been shocked by the foul state of Newgate prison, and one of the first works undertaken by his executors was its rebuilding. His executors, chief of whom was John Carpenter, the famous town clerk, also contributed to the cost of glazing and paving the new Guildhall, and paid half the expense of building the library there; they repaired St. Bartholomew's hospital, and provided bosses for water at Billingsgate and Cripplegate. But the chief of Whittington's foundations was his college at St. Michael, Paternoster church, and the adjoining hospital. The college was dissolved at the Reformation, but the hospital or almshouses are still maintained by the Mercers' Company at Highgate. Whittington was buried at St. Michael's church. John Stow relates that his tomb was spoiled during the reign of Edward VI, but that under Mary the parishioners were compelled to restore it. Whittington had a house near St. Michael's church; it is doubtful whether he had any connection with the so-called Whittington Palace in Hart Street, Mark Lane. There is no proof that he was ever knighted; Stow does not call him Sir Richard. Much of Whittington's fame was probably due to the magnificence of his charities. But a writer of the next generation bears witness to his commercial success in A Libell of English Policy by styling him "the sunne of marchaundy, that lodestarre and chief-chosen flower."
Pen and paper may not me suffice
Him to describe, so high he was of price.
The Richard Whittington of history is thus very different from the Dick Whittington of popular legend, which makes him a poor orphan employed as a scullion by the rich merchant, Sir Hugh Fitzwarren, who ventures the cat, his only possession, on one of his master's ships. Distressed by ill-treatment he runs away, but turns back when he hears from Holloway the prophetic peal of Bow bells. He returns to find that his venture has brought him a fortune, marries his master's daughter, and succeeds to his business. The legend is not referred to by Stow, whose love for exposing fables would assuredly have prompted him to notice it if it had been well established when he wrote. The first reference to the story comes with the licensing in 1605 of a play, now lost, The History of Richard Whittington, of his lowe byrth, his great fortune. Thomas Heywood in 1606 makes one of the characters in If you know not me you know nobody, allude to the legend, to be rebuked by another because "they did more wrong to the gentleman." "The legend of Whittington", probably meaning the play of 1605, is also mentioned by Beaumont and Fletcher in 1611 in The Knight of the Burning Pestle. The story was then no doubt popular. When a little later Robert Elstracke, the engraver, published a supposed portrait of Whittington with his hand resting on a skull, he had in deference to the public fancy to substitute a cat; copies in the first state are very rare. Attempts have been made to explain the story as possibly referring to vessels called "cats", which were employed in the North Sea trade, or to the French achat (purchase). But Thomas Keightley traced the cat story in Persian, Danish and Italian folklore at least as far back as the 13th century. The assertion that a carved figure of a cat existed on Newgate jail before the great fire is an unsupported assumption.
Father: Sir William Whittington
Mother: Joan Mansel
Wife: Alice Fitzwaryn

Do you know something we don't?
Submit a correction or make a comment about this profile

Copyright ©2019 Soylent Communications