George R. Minot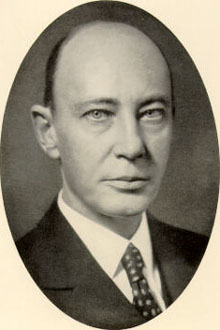 AKA George Richards Minot
Born: 2-Dec-1885
Birthplace: Boston, MA
Died: 25-Feb-1950
Location of death: Brookline, MA
Cause of death: unspecified

Gender: Male
Religion: Unitarian
Race or Ethnicity: White
Sexual orientation: Straight
Occupation: Doctor
Nationality: United States
Executive summary: Liver therapy for pernicious anemia
George Minot researched numerous blood disorders, including leukemia, and made his most famous discovery by isolating a treatment for pernicious anemia. Though we now think of this as a relatively minor ailment, in the early 20th century it was a deadly disease. Minot meticulously recorded the diets of patients with anemia, seeking a unifying factor that might lead to a cause and a cure. Following up on the research of George H. Whipple, Minot and his colleague William P. Murphy fed liver to patients suffering from pernicious anemia -- basically, feeding them liver until they could stand to eat no more.
Their findings showed that the ingestion of one half-pound of liver daily effectively reversed the course of the disease. In collaboration with chemist Edwin Cohn, Minot and Murphy then formulated an effective liver extract, and showed that a very small quantity of this extract, administered intravenously, had the same effect as eating huge quantities of liver. This became the standard treatment for pernicious anemia until Vitamin B-12 was isolated, two decades later. For their life-saving work, Minot, Murphy, and Whipple shared the 1934 Nobel Prize in Physiology or Medicine.
He married Marian Linzee Weld, who had been his next-door neighbor in childhood. A member of the Boston blueblood Minot family, he was distantly related to 1890s Secretary of State Richard Olney and 1990s Massachusetts Governor Bill Weld.
Father: James Jackson Minot (physician, b. 1853, d. 1938)
Mother: Elizabeth Whitney Minot (b. 1860, d. 1903)
Brother: James Jackson Minot Jr (stockbroker, b. 17-Nov-1891, d. 5-Sep-1985)
Brother: Henry Whitney Minot (b. 6-Feb-1896, 15-Apr-1971)
Wife: Marian Linzee Weld (b. 17-May-1890, m. 29-Jun-1915, d. 1979)
Daughter: Marian Linzee Minot (b. 6-Oct-1918)
Daughter: Elizabeth Whitney Minot (b. 4-Dec-1920)
Son: Charles Sedgwick Minot (physician, b. 18-Mar-1930)

University: BA, Harvard University (1908)
Medical School: MD, Harvard Medical School (1912)
Teacher: Medicine, Johns Hopkins University (1913-15)
Teacher: Medicine, Harvard Medical School (1915-28)
Professor: Medicine, Harvard Medical School (1928-47)

Nobel Prize for Medicine 1934 (with George H. Whipple and William P. Murphy)
Risk Factors: Diabetes

Do you know something we don't?
Submit a correction or make a comment about this profile

Copyright ©2019 Soylent Communications