Paul Ehrlich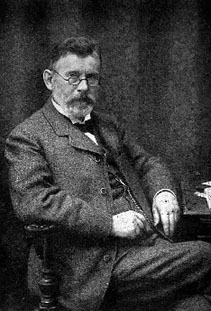 Born: 14-Mar-1854
Birthplace: Strzelin, Poland
Died: 20-Aug-1915
Location of death: Bad Homburg vor der Höhe, Germany
Cause of death: Stroke
Remains: Buried, Alter Jüdischer Friedhof, Frankfurt-am-Main, Germany

Gender: Male
Religion: Jewish
Race or Ethnicity: White
Sexual orientation: Straight
Occupation: Doctor, Scientist
Nationality: Germany
Executive summary: Father of chemotherapy
German bacteriologist Paul Ehrlich was a pioneer in the fields of chemotherapy (treatment of disease with chemical agents) and hematology (the study of blood). He was born in Strehlen, Germany (now Strzelin, Poland), worked for several years under under Robert Koch, and shared the 1908 Nobel Prize for Physiology or Medicine with Ilya Mechnikov. He worked with Emil von Behring to develop a diphtheria antitoxin, released in 1892, and worked with Sahachiro Hata (1873-1938) to develop salversan, an arsenic derivative that proved the first effective treatment for syphilis, and was introduced in 1910.
Ehrlich was among the first researchers to explore dye reactions on red and white blood cells, determining which types of tissue are susceptible to particular chemicals and dyes. He established several fundamental principles of immunology, and spent much of his career searching for new synthetic compounds that might attack microorganisms that carried specific diseases. He also developed the Side-Chain Theory (Seitenkettentheorie) in 1897, proposing that animal cells and bacteria act like dye, with complex molecules reacting with each another through side chains when these side chains have corresponding structure.
He was a cousin and close friend of German pathologist Karl Weigert (1845-1904), and his daughter married mathematician Edmund Landau (1877-1938). In Dr. Ehrlich's Magic Bullet, a 1940 Hollywood movie that dramatized the search for a cure for syphilis, Ehrlich was played by Edward G. Robinson. He was not related to ecologist Paul R. Ehrlich.
Father: Ismar Ehrlich (innkeeper)
Mother: Rosa Weigert Ehrlich
Wife: Hedwig Pinkus Ehrlich (b. 1864, m. 1883, d. 1948, two daughters)
Daughter: Stephanie Ehrlich Schwerin (b. 1884, d. 1966)
Daughter: Marianne Ehrlich Landau (b. 1886, d. 1963)

High School: St. Maria Magdalena Humanistic Gymnasium, Wroclaw, Poland (1872)
University: University of Breslau
University: University of Strasbourg
University: University of Freiburg
Medical School: University of Leipzig (1878)
Lecturer: La Charité Hospital, Berlin (1878-96)
Lecturer: Medicine, University of Berlin (1882-84)
Professor: Medicine, University of Berlin (1884-88)
Administrator: Institute for Serum Research and Serum Investigation, Berlin (1896-99)
Administrator: Royal Prussian Institute for Experimental Therapy, Frankfurt (1899-1915)

Tiedemann Prize 1887
Nobel Prize for Medicine 1908 (with Ilya Mechnikov)
Justus von Liebig Medal 1911
University of Edinburgh's Cameron Prize 1914
Commander Cross of the Danebrog Order (Denmark)
Commander Cross of the Royal St. Olaf Order (Norway)
Royal Danish Academy of Sciences Foreign Member
Stroke Dec-1914
Portrait on German currency 200 DM
German Ancestry
Polish Ancestry
Jewish Ancestry
Risk Factors: Tuberculosis

Author of books:
Das Sauerstoff-Bedürfniss des Organismus (1885, medicine)
The Collected Papers of Paul Ehrlich (1960, three volumes; posthumous)

Do you know something we don't?
Submit a correction or make a comment about this profile

Copyright ©2019 Soylent Communications