Jack Kevorkian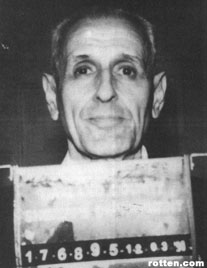 Born: 26-May-1928
Birthplace: Pontiac, MI
Died: 3-Jun-2011
Location of death: Royal Oak, MI
Cause of death: unspecified

Gender: Male
Religion: Atheist
Race or Ethnicity: White
Sexual orientation: Straight
Occupation: Doctor, Activist
Party Affiliation: Independent
Nationality: United States
Executive summary: Euthanasia enthusiast
Dr. Jack Kevorkian was known as "Dr. Death" since at least 1956, when he conducted a study photographing patients' eyes as they died. Results established that blood vessels in the cornea contract and become invisible as the heart stops beating. In a 1958 paper, he suggested that death row inmates be euthanized, and their bodily organs harvested. In 1960, he proposed using condemned prisoners for medical experiments.
In 1989, a quadriplegic, too handicapped to kill himself, publicly asked for assistance, and Dr. Kevorkian began tinkering on a suicide machine. But a different patient -- Janet Adkins, a 54-year-old with Alzheimer's -- was the first to test the device. It worked. Kevorkian then provided services to at least 45 and possibly more satisfied customers.
In 1997, however, the U.S. Supreme Court ruled that Americans who want to kill themselves -- but are physically unable to do so -- have no Constitutional right to end their lives. Kevorkian was sentenced to 10-25 years in prison, but was paroled in 2007, in failing health and nearing his own death.
Sister: Flora Holzheimer
Sister: Margo Janus

Medical School: MD, University of Michigan (1952)

Murder assisted suicide of Thomas Youk (1998, convicted)
Murder assisted suicide (1996, acquitted)
Hunger Strike 18 days (Nov-1993)
Murder assisted suicide of Thomas W. Hyde Jr. (1993, charges dropped)
Murder assisted suicide of two women (1991, charges dropped)
Murder assisted suicide of Janet Adkins (1990, acquitted)
Represented Self in Court
Hernia Operation Foote Hospital (4-Feb-2005)
Armenian Ancestry
Risk Factors: Hepatitis C, Arthritis, Diabetes, Liver Cancer

Rotten Library Page:
Jack Kevorkian
Do you know something we don't?
Submit a correction or make a comment about this profile

Copyright ©2019 Soylent Communications