Mark "Gator" Rogowski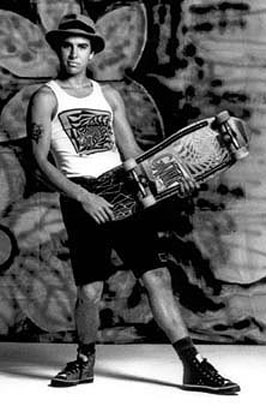 AKA Mark Anthony Rogowski
Born: 1966
Birthplace: Brooklyn, NY

Gender: Male
Religion: Born-Again Christian
Race or Ethnicity: White
Sexual orientation: Straight
Occupation: Skateboarder, Criminal
Nationality: United States
Executive summary: Pro skateboarder imprisoned for murder
At one point during the 1980s, Mark "Gator" Rogowski was known to the world as a professional skateboarder, one of the first "Extreme Sports" athletes and a Vision Street Wear model. He toured around the world, appearing with skateboarders (including skateboarding legend Tony Hawk) and BMX riders, promoting skateboarding as sport and a lifestyle. Gator had a number of products with his designs, and his face, available for sale, including skateboards, magazines, videos and a clothing line. He was a regular fixture in Thrasher magazine. At age 17 in 1983, he was making $100,000 a year. He and his girlfriend appeared in the Tom Petty video Free Fallin'.
In the end, after a nasty breakup with his long-time live-in girlfriend, Southern California's skateboarding icon confessed to police that he murdered a young woman. First, he beat 21-year-old Jessica Bergsten with a car steering-wheel lock called "The Club". He confessed that he raped her, wrapped her in a surfboard bag, strangled her and managed to dump her naked body in the desert without being caught. He would have gotten away with it too if not for the conscience that goes with being a recently Born-Again Christian.
Jessica was a friend of his ex-girlfriend's so the motive for murder could have been revenge. Having confessed, Gator pleaded innocent and suggested the killing was a kinky sex game gone wrong. He was found guilty and sentenced to consecutive terms of six years for forcible rape, twenty-five years to life for first-degree murder. He is eligible for parole in 2018.
Girlfriend: Brandi McClain (former Vision Street Wear model)

Born-Again Christian
Murder Jessica Bergsten (20-Mar-1991)
Rape Jessica Bergsten (20-Mar-1991)

FILMOGRAPHY AS ACTOR
Stoked: The Rise and Fall of Gator (22-Aug-2003) · Himself

Appears in articles:
Village Voice, 8-Dec-1992, DETAILS: How Skateboard King Mark "Gator" Anthony was Born Again as a Rapist and a Murderer, BYLINE: Cory Johnson

Do you know something we don't?
Submit a correction or make a comment about this profile

Copyright ©2019 Soylent Communications