Fernando Poe, Jr.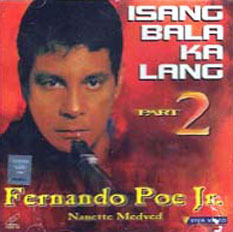 AKA Ronald Allan Kelley Poe, Jr.
Born: 20-Aug-1939
Birthplace: Manila, Philippines [1]
Died: 13-Dec-2004
Location of death: Manila, Philippines
Cause of death: Stroke
Remains: Buried, North Cemetery, Manila, Philippines

Gender: Male
Religion: Roman Catholic
Race or Ethnicity: Hispanic
Sexual orientation: Straight
Occupation: Politician, Actor
Nationality: Philippines
Executive summary: Filipino actor turned presidential candidate
There is considerable dispute as to Poe's citizenship, because of his intention to run for Philippine Presidency. His parents married on 16 September 1940, more than a year after Poe's birth, and his father and grandfather were Spaniards and mother an American. But all children of Philippine fathers are considered citizens, and a 1902 act required by the Treaty of Paris and passed by the Americans made all Spaniard Filipinos citizens unless they specifically disclaimed such. There is no evidence that Poe's grandfather, Lorenzo Poe, did this. Incidentally, the first wife of Poe's father, Paulita Gomez, filed bigamy charges against the elder Poe after his marriage to Bessie.
---
[1] St. Luke's Hospital, Manila, Philippines.

Father: Allan Fernando Poe (Spaniard, b. 1916, d. 1951)
Mother: Bessie Kelley (American, of Kansas City MO, not married at time of FPJ's birth)
Brother: Andy Poe
Brother: Conrad Poe
Wife: Susan Roces


High School: (dropped out)


Coma Dec-2004
Spanish Ancestry Paternal






Do you know something we don't?
Submit a correction or make a comment about this profile






Copyright ©2019 Soylent Communications