James Lovelock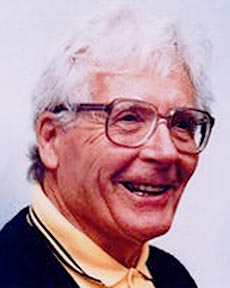 AKA James Ephraim Lovelock
Born: 26-Jul-1919
Birthplace: Letchworth Garden City, Hertfordshire, England

Gender: Male
Religion: Agnostic
Race or Ethnicity: White
Sexual orientation: Straight
Occupation: Scientist
Nationality: England
Executive summary: The Gaia Theory
James Lovelock is one of the world's foremost scientists, best known for developing the "Gaia Theory", which views Earth as a living biological organism. As a child, his curiosity was piqued by the fiction of H. G. Wells and Jules Verne. As a young student, he focused his attention on astronomy, chemistry and physics. Graduating from school during the Depression, he was advised by his headmaster that he lacked the intelligence to pursue a career in science, but Lovelock went on to earn three degrees, and holds more than fifty patents.
He invented the electron capture detector, a tool for measuring man-made chemicals in minute quantities. That machine was used in the 1950s to establish that pesticides had left chemical contamination in plants and animals on every continent, even in Antarctic penguins and American mother's milk. As a result, the pesticide DDT was eventually banned. Lovelock's invention later brought to light the environmental contamination caused by chlorofluorocarbons (CFCs).
He worked for NASA, where he developed devices to evaluate the atmospheres and surfaces of distant planets. He was among the first prominent scientists to sound the alarm over global warming, caused by man-made industrialization and pollution. He was the lead scientist in the first briefing on global warming for Margaret Thatcher's cabinet, in 1989.
In the years since then, oil and industrial corporations have spent millions of dollars funding their own research and public relations to deny global warming. Lovelock now argues that time is running out, and if we do not work to reverse the damage caused by decades of casual exploitation of a fragile environment, it will soon be too late.
In a profoundly pessimistic 2006 article, Lovelock issued an urgent call for the world's nations to tightly budget their use of the earth's resources, to sustain civilization for as long as possible. Lovelock stressed that global warming must be viewed as an emergency. Without an immediate, top-priority international effort, he predicts that "before this century is over billions of us will die and the few breeding pairs of people that survive will be in the Arctic where the climate remains tolerable."
Lovelock has also performed significant research into chromatography, aging, and the common cold. He is a past president of the Marine Biology Association, and a fellow in the world's oldest academic association, the Royal Society of London for the Improvement of Natural Knowledge.
Father: Thomas Arthur Lovelock (art dealer)
Mother: Nellie Ann Elizabeth March (town councilwoman)
Wife: Helen Mary Hysop (m. 1941, d. 1989, two sons, two daughters)
Wife: Sandra Jean Orchard (m. 1991)

University: Birbeck College (night school while working)
University: BS, Manchester University (1941)
University: PhD Medicine, London School of Hygiene and Tropical Medicine (1948)
University: PhD Biophysics, London University (1959)
Teacher: Yale University (1954-55)
Teacher: Harvard University (1958-59)
Professor: Baylor University College of Medicine (1961-63)
Teacher: Green College, Oxford University

Do you know something we don't?
Submit a correction or make a comment about this profile

Copyright ©2019 Soylent Communications