Mary Ann Bickerdyke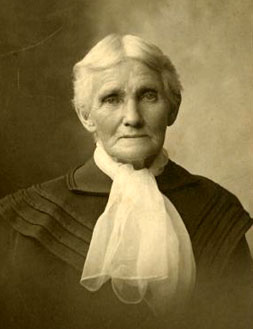 AKA Mary Ann Ball Bickerdyke
Born: 19-Jul-1817
Birthplace: Mount Vernon, OH
Died: 8-Nov-1901
Location of death: Bunker Hill, KS
Cause of death: Stroke
Remains: Buried, Linwood Cemetery, Galesburg, IL

Gender: Female
Religion: Congregationalist
Race or Ethnicity: White
Sexual orientation: Straight
Occupation: Activist
Nationality: United States
Executive summary: "Mother to the boys in Blue"
Mary Ann Bickerdyke lived an utterly ordinary life until she was 43 years old. She was raised on a farm by her grandparents, after her mother's death when she was an infant. When her grandparents died, she was taken in by an uncle, and later she traveled the midwest with her aunt, an evangelist preacher. As a young adult she worked as a domestic servant, and at 30 years of age she married an English mechanic, Robert Bickerdyke. They had two children and eventually settled in Galesburg, Illinois, where he died in 1859. She took work as a laundress and maid, and attended the local Congregationalist Church, where her minister was Edward Beecher, the brother of Harriet Beecher Stowe. After her daughter died in infancy, she resolved to learn more about health, and began reading whatever books she could find about medicine.
In 1861, shortly after the start of the US Civil War, Rev. Beecher received a letter detailing the poor medical care received by Union soldiers, and mentioned this in a sermon. Immediately, Bickerdyke resolved to do whatever she could to improve the situation. She led a drive in her town to gather medical supplies, left her children in the care of a friend, and delivered the supplies to her nearest Union base, in Cairo, Illinois. When she saw the squalid conditions of the camp's medical clinic she refused to leave, and instead began washing the soldiers' bedding and clothes, cooking meals, and keeping soldiers' wounds clean -- all without official sanction, and in violation of regulations forbidding her presence within the fort. She assembled a small staff of local lady volunteers, improving standards of cleanliness along with patients' spirits and, more tangibly, recovery rates.
Eventually Bickerdyke began accompanying the soldiers into battle, working in field hospitals alongside doctors who would perform quick surgeries and then move on to the next battered man. Bickerdyke and her ladies provided nourishment for the wounded, sponged blood from their bodies, and cut off their filthy uniforms to be replaced with soft, clean hospital garments. When officers objected to her presence on the battlefield, she argued fiercely but briefly, then walked away to continue her work, identifying and helping the wounded. After dark she would return with a lantern and bring injured soldiers to her makeshift hospital.
After providing emergency care for the wounded among Ulysses S. Grant's brigade after the Battle of Shiloh, she was hired in an official capacity by the US Sanitary Commission, a federal agency that provided medical and other support services during the war. She traveled with General Grant's men to Corinth and Vicksburg, Mississippi, and Memphis, Tennessee, then accompanied William T. Sherman's men on their march to Chattanooga and south to Atlanta. According to legend she once argued with Sherman, refusing to leave the battlefield, until he turned to another officer and exclaimed, "She outranks me. I can't do a thing in the world."
At the war's conclusion, at Sherman's invitation, she rode in the grand review in Washington. When the Sanitary Commission was disbanded, Bickerdyke resumed her unofficial affiliation with the Army, providing nursing services for recuperating soldiers. She later worked to help Union veterans secure back pay and pensions, and raised funds that brought veterans to Kansas, where they could obtain free land under the Homestead Act. Her tombstone is engraved, "Mother to the boys in Blue".
Father: Hiram Ball (farmer)
Mother: Anne Rodgers Ball (farmer, d. Dec-1818)
Husband: Robert Bickerdyke (b. 1-Jul-1805, m. 27-Apr-1847, d. 1858, two sons, one daughter)
Son: Hiram Bickerdyke
Son: James Bickerdyke (school principal)
Daughter: Martha Bickerdyke (d. infancy)

Do you know something we don't?
Submit a correction or make a comment about this profile

Copyright ©2019 Soylent Communications