Edwin Vose Sumner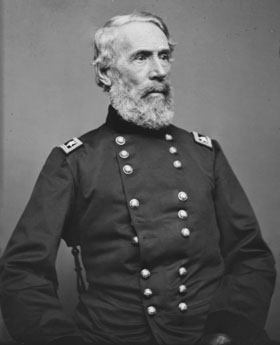 AKA Edwin Vose Sumner, Sr.
Born: 30-Jan-1797
Birthplace: Boston, MA
Died: 21-Mar-1863
Location of death: Syracuse, NY
Cause of death: Heart Failure
Remains: Buried, Oakwood Cemetery, Syracuse, NY

Gender: Male
Race or Ethnicity: White
Sexual orientation: Straight
Occupation: Military
Nationality: United States
Executive summary: Union Army General
Military service: US Army (1819-61); Union Army (1861-63)
American soldier, born at Boston, Massachusetts, and entered the United States army in 1819. He served in the Black Hawk War and in various Indian campaigns. In 1838 he commanded the cavalry instructional establishment at Carlisle, Pennsylvania. He took part in the Mexican War as a major, and for his bravery at Molino del Rey he received the brevet rank of colonel. In 1857 he commanded an expedition against the Cheyenne Indians. At the outbreak of the Civil War, four years later, Sumner had just been promoted brigadier-general USA and sent to replace Albert Sidney Johnston in command on the Pacific coast. He thus took no part in the first campaign of the Civil War. But in the autumn he was brought back to the East to command a division, and soon afterwards, as a major-general USV, a corps in the army that was being organized by George B. McClellan. This corps, numbered II, retained its independent existence throughout the war, and under the command of Sumner, Couch, Hancock and Humphreys it had the deserved reputation of being the best in the Union army. Sumner, who was by far the oldest of the generals in the army of the Potomac, led his corps throughout the peninsular campaign, was wounded during the Seven Days' Battle, and received the brevet of major-general USA, and was again wounded in the battle of Antietam. When Ambrose Burnside succeeded to the command of the army of the Potomac he grouped the corps in "grand divisions", and appointed Sumner to command the right grand division. In this capacity the old cavalry soldier took part in the disastrous battle of Fredericksburg, in which the II corps suffered most severely. Soon afterwards, on Joseph Hooker's appointment to command the army, Sumner was relieved at his own request. He died suddenly, on the 21st of March 1863, while on his way to assume supreme command in Missouri.
Father: Elisha Sumner
Mother: Nancy Voss
Wife: Hannah Wickersham Foster (m. 31-Mar-1822)
Daughter: Nancy
Daughter: Margaret Foster
Daughter: Sarah Montgomery Sumner Teall
Daughter: Mary Heron
Son: Edwin Vose Sumner, Jr.
Son: Samuel Storrow Sumner

High School: Milton Academy

Do you know something we don't?
Submit a correction or make a comment about this profile

Copyright ©2019 Soylent Communications