A. R. Radcliffe-Brown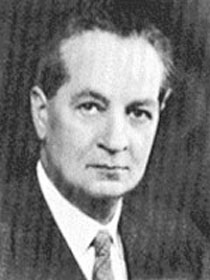 AKA Alfred Reginald Radcliffe-Brown
Born: 17-Jan-1881
Birthplace: Birmingham, Warwick, England
Died: 24-Oct-1955
Location of death: London, England
Cause of death: unspecified

Gender: Male
Race or Ethnicity: White
Occupation: Anthropologist
Nationality: England
Executive summary: Father of modern social anthropology
A.R. Radcliffe-Brown is remembered as the father of structural-functionalism and as one of the co-founders of British social anthropology, along with Bronislaw Malinowski. Radcliffe-Brown first came to prominence through his analysis of kinship and social organization among The Andaman Islanders (1922) and, later, among the aborigines of Australia, published in such works as Social Organization of Australian Tribes (1931). Structural-functionalism views society as an entity composed of functionally interdependent institutions. Structural-functional analysis, although later viewed as reductionist, deeply influenced the development of social anthropology and continues to influence the subfields of economic and political anthropology.
Born in Sparkbrook, Birmingham, England on January 17, 1881 as Alfred Reginald Brown he later changed his last name, by deed poll, to Radcliffe-Brown. He entered Cambridge University in 1901, studying philosophy, psychology, economics, and the natural sciences. While there he earned the nickname "Anarchy Brown" for his close association with anarchist communist Peter Kropotkin. Kropotkin, as expressed in his book Mutual Aid, argued that the ability to work together introduced a new wrinkle into the concept of survival of the fittest. Expanded into the paradigm of Social Darwinism, survival of the fittest typically emphasized competition between individuals, as well as species, leading to selection for superior strength and intelligence. Kropotkin's alternative emphasis, on selection for skills that allowed humans to thrive by working together, laid the groundwork for Radcliffe-Brown's later emphasis on social anthropology and especially structural-functionalism.
Nonetheless Radcliffe-Brown's initial work in the field of Anthropology displayed the usual emphasis on ethnology and history. And it was with this focus that he undertook his first field studies, in the Andaman Islands, in 1906. Building on, and highly critical of, the work previoulsy done in among the Andaman Islanders by E.H. Man and M.V. Portman, Radcliffe-Brown formulated a fairly ordinary if underwhelming report of his observations. But after his return to London he became aware of the work of French sociologist Émile Durkheim, sparking a new interest in the way that social institutions act together to sustain society – much as physical organs work together to sustain a living body. Using his own modified version of Durkheim's theories, which he called "structurual-functionalism", he reinterpreted the entirety of his work among the Andaman Islanders. And during his fieldwork among the Australian Aborginees (1910-1912), he utilized structural-functionalism to analyze kinship, myth, totemism, in the context of social organization.
Despite these forays however, Radcliffe-Brown never embraced fieldwork with the same passion and rigor as Bronislaw Malinowski, with whom he would eventually co-found a new social anthropology. In addition there are those who have questioned the integrity of Radcliffe-Brown's studies, even accusing him of appropriating the fieldwork of others and passing it off as his own. In short, his dedication was to theory and to the big picture, rather than small realistic details.
Interestingly, in another contrast to Malinowski, Radcliffe-Brown did not become an immediate fixture in English academia once his work became well-known. Instead, although he taught for a time, early on, at the London School of Economics, he bounced around to a number of teaching positions in such far flung locales as the Kingdom of Tonga; Cape Town, South Africa; Sydney, Australia; the University of Chicago; Yenching, China; São Paulo, Brazil; and even Alexandria, Egypt, before finally being offered a professorship at Oxford University (1937-1946). Along the way he managed to leave a good deal of his influence behind wherever he went, both upon individual students and upon departments of anthropology.
However these influences were not without controversy. In the early days of his conversion to structural-functionalism he was bitterly critical of conventional historical diffusion and social evolutionary approaches to anthropology. And although he was supportive of historical work where it could be clearly substantiated -- through "objective" sources such as written records made by early travelers -- he was extremely opposed to the tendency to conjecture whole civilizations, and laws about human nature, from a few pot shards and bones. This insistence on substantiation developed into a worthy and important influence within anthropology, echoed in the work of both Malinowski and Boas. But at times it was carried to such extremes that archaeology, in certain institutions where he was ensconced, withered from lack of funding and other support.
Although Radcliffe-Brown would remain hostile to evolutionary conjecture (especially as applied to culture and society), his passion to understand how societies work, to identify their significant constituent parts and the ways that these function together, would eventually lead him to construct his own grand sweeping theories as he broadened his scope to cross-cultural comparisons. His work in this area certainly raised intriguing questions as to how very similar social structures (such as exogamous moieties) could pop up in very distinct and geographically separated tribes. But at the same time, his preoccupation with the here and now, to the exclusion of historical trends and developments, and his tendency to focus only on theories of functional purpose, while ignoring intriguing questions of psychology, meant that his eminence within anthropology would prove short-lived.
In time he was eclipsed by both Boas and Malinowski, whose contributions to fieldwork methodology began to heavily define the practice of cultural anthropology. Furthermore, their alternative approach to culture -- as systems of meaning that shape and are shaped by individuals within a society -- set the trend for a new trend within cultural anthropology, as typified by the later "thick description" of Clifford Geertz. Increasingly Radcliffe-Brown's structural-functionalism found its utilization narrowed to the subfield of political anthropology, especially in the work of Max Gluckman, Sir Raymond Firth, Meyer Fortes, and Edward Evans-Pritchard. Ironically however, it was Evans-Pritchard who eventually replaced Radcliffe-Brown at Oxford and who subsequently denounced structural-functionalism a form of reductionism.
University: Trinity College, Cambridge University
Professor: Social Anthropology, University of Cape Town (1920-25)
Professor: University of Sydney (1925-31)
Professor: University of Chicago (1931-37)
Professor: Oxford University (1937-46)

Author of books:
The Andaman Islanders (1922, anthropology)
The Social Organisation of Australian Tribes (1931, anthropology)
Structure and Function in Primitive Society (1952, anthropology)
Method in Social Anthropology (1958, anthropology)

Do you know something we don't?
Submit a correction or make a comment about this profile

Copyright ©2019 Soylent Communications