Joseph Wilson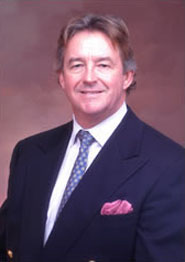 AKA Joseph Charles Wilson IV
Born: 6-Nov-1949
Birthplace: Bridgeport, CT

Gender: Male
Race or Ethnicity: White
Sexual orientation: Straight
Occupation: Diplomat
Nationality: United States
Executive summary: Ambassador to Gabon, Valerie Plame's husband
At the request of Vice President Dick Cheney, in February 2002 the Central Intelligence Agency asked retired diplomat Joseph Wilson to investigate claims that Saddam Hussein had purchased uranium ore from the African nation of Niger. Wilson, who had been Ambassador to Gabon, agreed to look into the matter. He made the trip, contacted the relevant sources, and quickly corroborated what the intelligence community had already assumed: the story was bogus. Wilson returned home and reported his findings to the CIA. Case closed.
But then, a few months later, President Bush included the claim in his 2003 State of the Union address. Bush asserted that Saddam Hussein had attempted to purchase significant quantities of uranium ore from Africa. This greatly surprised Wilson, who subsequently went public with his story.
Shortly thereafter, an senior White House official leaked his wife's undercover CIA identity to the press. The situation is muddled, since Richard Armitage also revealed her name, not out of malice but as a matter of gossip -- but this does not change the fact that a White House effort to discredit him by using this information was undertaken. Conservative pundit Robert Novak published in his 14 July 2003 column:
Wilson never worked for the CIA, but his wife, Valerie Plame, is an Agency operative on weapons of mass destruction. Two senior administration officials told me Wilson's wife suggested sending him to Niger to investigate. The CIA says its counter-proliferation officials selected Wilson and asked his wife to contact him. "I will not answer any question about my wife," Wilson told me.
In April 2004, Wilson offered his best guesses about the leaker's identity in his book The Politics of Truth: Inside the Lies that Led to War and Betrayed My Wife's CIA Identity -- A Diplomat's Memoir. In it, the retired diplomat fingers three possible culprits: Bush political adviser Karl Rove, Cheney's chief of staff Lewis Libby, and Iran-Contra conspirator Elliott Abrams. Wilson was correct on Rove and Libby, wrong on Abrams, and he missed Armitage.

Father: Joseph Charles Wilson III
Mother: Phyllis Finnell Wilson
Wife: Susan Dale Otchis (m. 27-Apr-1973, div. 1986)
Wife: Valerie Plame (m. 3-Apr-1998)
Daughter: Sabrina Cecile Wilson
Son: Joseph Charles Wilson V
Son: Trevor Rolph Wilson (twin, b. Jan-2000)
Daughter: Samantha Finnell Diana Wilson (twin, b. Jan-2000)


University: BA, University of California at Santa Barbara (1972)


US Ambassador to Gabon (1992-95)
US Ambassador to Sao Tome and Principe (1992-95)
US Ambassador to Iraq ad interim (Jul-1990 to Jan-1991)
DoD Distinguished Service Award
Draft Deferment: Vietnam 2-S
Risk Factors: Smoking, Bell's Palsy


FILMOGRAPHY AS ACTOR
Uncovered: The Whole Truth About the Iraq War (3-Nov-2004) · Himself
Uncovered: The War on Iraq (20-Aug-2004) · Himself
Bush's Brain (13-Mar-2004) · Himself


Author of books:
The Politics of Truth: Inside the Lies That Led to War and Betrayed My Wife's CIA Identity (2004, politics)





Requires Flash 7+ and Javascript.



Do you know something we don't?
Submit a correction or make a comment about this profile






Copyright ©2019 Soylent Communications