Alberto Gonzales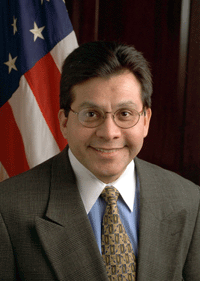 AKA Alberto R. Gonzales
Born: 4-Aug-1955
Birthplace: San Antonio, TX

Gender: Male
Religion: Roman Catholic
Race or Ethnicity: Hispanic
Sexual orientation: Straight
Occupation: Government, Attorney
Party Affiliation: Republican
Nationality: United States
Executive summary: US Attorney General, 2005-07
Military service: USAF (1973-75)
Before becoming Attorney General, Alberto R. Gonzales served as then-Governor Bush's legal counsel (1995-97), then Texas Secretary of State (1997-99), then on the state Supreme Court (1999-2001), and finally as President George W. Bush's White House counsel (2001-05). Prior to his stint in government service, Gonzales was a partner with the Houston law firm of Vinson & Elkins (1982-95).
While there was a case against Halliburton pending before the Texas Supreme Court in 1999, Gonzales received $3,000 in political contributions from Halliburton. Two other justices also received $1,000 each. In the end the appeal was denied, exactly what Halliburton wanted.
Gonzales testified before the grand jury investigating the Valerie Plame leak on Friday, 18 June 2004.
In a memo dated 25 January 2002, Gonzales had this to say regarding the applicability of the Geneva Convention on Prisoners of War to the War on Terrorism:
As you have said, the war against terrorism is a new kind of war. It is not the traditional clash between nations adhering to the laws of war that formed the backdrop for G.P.W. The nature of the new war places a high premium on other factors, such as the ability to quickly obtain information from captured terrorists and their sponsors in order to avoid further atrocities or war crimes, such as wantonly killing civilians. In my judgment, this new paradigm renders obsolete Geneva's strict limitations on questioning of enemy prisoners and renders quaint some of its provisions requiring that captured enemy be afforded such things as commissary privileges, scrip (i.e., advances of monthly pay), athletic uniforms and scientific instruments.

Although some of these provisions do not apply to detainees who are not P.O.W.'s, a determination that G.P.W. does not apply to Al Qaeda and the Taliban eliminates any argument regarding the need for case-by-case determination of P.O.W. status. It also holds open options for the future conflicts in which it may be more difficult to determine whether an enemy force as a whole meets the standard for P.O.W. status.

By concluding that G.P.W. does not apply to Al Qaeda and Taliban, we avoid foreclosing options for the future, particularly against nonstate actors.
As one of the President's closest aides, Gonzales was speculated to be on the short list for a replacement Supreme Court Justice or Attorney General. And upon the resignation of Attorney General John Ashcroft in November 2004, following the short-lived consideration of Bernard Kerik for the post, he became Bush's nominee to replace him, doing so in February 2005.

Father: Pablo Gonzales (dec. 1982)
Mother: Maria
Wife: Diane Clemens (div. 1985)
Wife: Rebecca Turner Gonzales (three sons)
Son: Jared Freeze (by Rebecca)


High School: Douglas MacArthur High School, Houston, TX (1973)
University: US Air Force Academy, Colorado Springs, CO (1975-77)
University: BA Political Science, Rice University (1979)
University: JD, Harvard Law School (1982)


US Attorney General (2005-07)
White House Counsel (2001-05)
Texas State Supreme Court (1999-2001)
Texas Secretary of State (1997-99)
Texas State Official General Counsel to Governor George W. Bush (1995-97)
Baker Botts
Vinson & Elkins Partner (1982-95)
Academy of Achievement (2005)
State Bar of Texas
United Way
Dubya Nickname Fredo
Funeral: Gerald Ford (2007)
Mexican Ancestry





Requires Flash 7+ and Javascript.



Do you know something we don't?
Submit a correction or make a comment about this profile






Copyright ©2019 Soylent Communications