Bernardine Dohrn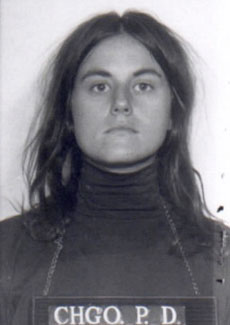 AKA Bernardine Rae Dohrn
Born: 12-Jan-1942
Birthplace: Chicago, IL [1]

Gender: Female
Race or Ethnicity: White
Sexual orientation: Straight
Occupation: Activist, Attorney
Nationality: United States
Executive summary: Weather Underground leader
Growing up in suburban Wisconsin, Bernardine Dohrn was a smart cheerleader in high school who went on to get her law degree amidst the political turbulence of late 1960s Chicago.
Active with the SDS, Dohrn played a very public role in the student group's dissolution and subsequent takeover by The Weatherman (Weather Underground, but most often referred to as the Weathermen) faction. As the photogenic spokesperson for The Weathermen, Dohrn advocated the violent overthrow of the pigs and was involved with several of the group's bombings of government buildings during the early 1970s.
Living underground as a fugitive in San Francisco and Chicago for 11 years, she and her husband turned themselves in by 1980. Federal charges for conspiracy to bomb buildings had been dropped due to illegal evidence gathering by J. Edgar Hoover's COINTELPRO-style infiltration of the Weathermen organization. Dohrn got away with it all, paying a $1500 fine for a minor bail-jumping offense and later doing a little time for refusing to testify against a cohort, Kathy Boudin. Dohrn's adopted son Chesa is the biological son of Boudin, incarcerated for armed robbery when the child was 14 months old.
Dohrn has spent the last few decades as a lawyer and currently teaches classes on children's legal rights at Northwestern University.
"Dig it! Manson killed those pigs, then they ate dinner in the same room with them, then they shoved a fork into a victim's stomach." -- Bernardine Dohrn on the Tate/LaBianca murders, 1969.
---
[1] Widely reported to be Milwaukee, WI -- her FBI record says Chicago.

Father: (d.)
Mother: (b. 1912, alzheimers)
Sister: Jennifer Dohrn (target of FBI break-ins)
Husband: Bill Ayers (Weatherman member, b. 1944)
Son: Zayd Atheola Dohrn (b. 1977, playwright)
Son: Malik Cochise Dohrn (b. 1980, teacher)
Son: Chesa Jackson Gilbert Boudin (activist, b. 1981, adopted 1982, parents incarcerated)


High School: Whitefish Bay High School, Whitefish Bay, WI
University: BA Political Science, University of Chicago (1963)
Law School: JD, University of Chicago Law School (1967)
Professor: Associate Professor of Law, Northwestern University (1991-)
Professor: Adjunct Professor of Criminal Justice, University of Illinois at Chicago (2000-)


Students for a Democratic Society (1968)
Weatherman Leader (1969-81)
Violating Bail 1970 Anti-war protest arrest, pled guilty 1980
Battery charges dropped 1973
Inciting a Riot charges dropped 1973
Conspiracy charges dropped 1973
FBI's Ten Most Wanted Fugitives 1970-73
American Civil Liberties Union Legal Researcher (1990-91)
American Bar Association Founding Co-Chair, Task Force on Children (1989-present)
Human Rights Watch Board Member, Children's Rights Project (1995-present)


FILMOGRAPHY AS ACTOR
The Weather Underground (17-Nov-2002) · Herself


Official Website:
http://www.law.northwestern.edu/faculty/clinic/dohrn/dohrn.html




Requires Flash 7+ and Javascript.



Do you know something we don't?
Submit a correction or make a comment about this profile






Copyright ©2019 Soylent Communications