Albert Schweitzer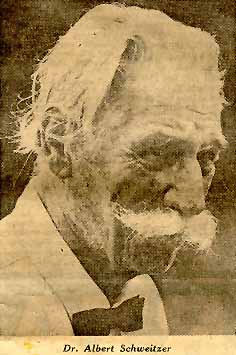 Born: 14-Jan-1875
Birthplace: Kaysersberg, Germany
Died: 4-Sep-1965
Location of death: Lambaréné, Gabon
Cause of death: Natural Causes [1]
Remains: Buried, Albert Schweitzer Hospital, Lambaréné, Gabon

Gender: Male
Religion: Lutheran
Race or Ethnicity: White
Sexual orientation: Straight
Occupation: Activist, Religion, Organist
Nationality: Germany
Executive summary: Humanitarian and theologian
Albert Schweitzer earned doctorates in philosophy and theology, had a reputation as one of Europe's finest organists, and came to international fame with his 1906 best seller, The Quest of the Historical Jesus. He said he first felt the Lord's calling in 1904 to become a physician in Africa, and over the objections of family, friends, and colleagues, the 30-year-old minister and college teacher enrolled in medical school. Eight years later he had obtained a third doctorate, in medicine, with specialized training in tropical medicine and surgery. He then departed for Lambaréné in the French Congo (now Gabon), where he built a clinic inside a chicken coop on the shores of the Ogowe River. Schweitzer and his wife, a nurse, provided medical care for natives and built the hospital into a modern facility providing care for thousands of patients every year.
When the Great War (World War I) broke out the Schweitzers, who were Germans in French Africa, were taken prisoners of war and held in France, where Schweitzer was confined in the same building where Vincent van Gogh had been held for several months before killing himself. After the war, the Schweitzers returned to Lambaréné, and there Schweitzer spent the rest of his life, though ill health eventually forced his wife to relocate and live separately. Schweitzer's writing and life's work made him perhaps the most famous physician of his era, and despite being sent under the auspices of the Paris Missionary Society he described himself as primarily a physician, not a missionary. He was a world celebrity of a stature difficult to comprehend today — he was rarely seen on television or in person outside of Africa, but his books and books about him were omnipresent and his name became synonymous with good deeds. After winning the Nobel Peace Prize in 1952, he used the monetary prize to expand the hospital to include a medical facility for people with leprosy.
Schweitzer remained resolutely apolitical all his life, with the exception of "A Declaration of Conscience", an impassioned essay against nuclear weapons published in 1957, and he was a principal founder of Committee for a Sane Nuclear Policy (now Peace Action). At Schweitzer's death in 1965, the hospital he had founded in a shanty had grown to 72 buildings, with 600 beds and a staff of six physicians and three dozen nurses. He was buried there under a cross-shaped tombstone that he had carved, and his adult daughter took over as hospital's administrator. The hospital, now named in his honor, continues his work. His cousin, Anne-Marie Schweitzer, was the mother of playwright and philosopher Jean-Paul Sartre.
---
[1] According to his New York Times obituary, "circulatory trouble brought on by his advanced age."

Father: Louis Schweitzer (Lutheran pastor)
Mother: Adele Schillinger Schweitzer
Sister: Emma Schweitzer
Sister: Louisa Schweitzer
Sister: Lulie Adele Schweitzer
Sister: Marguerit Schweitzer
Brother: Paul Schweitzer
Wife: Helene Bresslau Schweitzer (b. 25-Jan-1879, dated 1902-12, m. 18-Jun-1912, d. 6-Jan-1957, one daughter)
Daughter: Rhena Schweitzer Miller (b. 14-Jan-1919, d. 22-Feb-2009)


High School: Mulhouse Gymnasium, Mulhouse, Germany (1893)
University: PhD Philosophy, University of Strasbourg (1899)
University: PhD Theology, University of Strasbourg (1900)
Administrator: Theological College of St.Thomas, University of Strasbourg (1901-12)
Teacher: Theology and Philosophy, University of Strasbourg (1902-05)
Medical School: MD, University of Strasbourg (1913)


Friedenspreis des Deutschen Buchhandels 1951
Nobel Peace Prize 1952
Sonning Prize 1959
Order of Merit 1955 (honorary)
Paris Missionary Society
Peace Action Co-Founder (1957, as Committee for a Sane Nuclear Policy)
German Ancestry
Taken Prisoner of War by the French (1917-18)
Released in Prisoner Exchange
Stroke 28-Aug-1965
Risk Factors: Vegetarian


Official Website:
http://www.schweitzer.org

Author of books:
J.S. Bach: Musician & Poet (1905, biography)
The Quest of the Historical Jesus (1906, religion)
On the Edge of the Primeval Forest (1922, non-fiction)
Philosophy of Civilization (1923, non-fiction)
The Decay and the Restoration of Civilization (1923, non-fiction)
Memoirs of Childhood and Youth (1925, memoir)
The Mysticism of Paul the Apostle (1930, religion)
Aus meinem Leben und Denken (Out of My Life and Thought) (1931, memoir)
More from the Primeval Forest (1931, non-fiction)
From My African Note-Book (1938, memoir)
The Wit and Wisdom of Albert Schweitzer (1949, non-fiction)
Peace or Atomic War? (1957, non-fiction)
A Treasury of Albert Schweitzer (1965, essays, posthumous)
Letters of Albert Schweitzer, 1905-1965 (1992, correspondence, posthumous)
Albert Schweitzer and Alice Ehlers: A Friendship in Letters (1991, correspondence, posthumous)
Brothers in Spirit:The Correspondence of Albert Schweitzer and William Larimer Mellon, Jr. (1996, correspondence, posthumous)
The Albert Schweitzer-Helene Bresslau letters, 1902-1912 (2003, correspondence, posthumous)





Requires Flash 7+ and Javascript.



Do you know something we don't?
Submit a correction or make a comment about this profile






Copyright ©2019 Soylent Communications