Mike Oldfield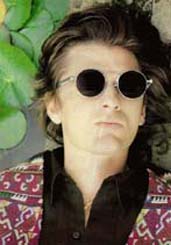 AKA Michael Gordon Oldfield
Born: 15-May-1953
Birthplace: Reading, Berkshire, England

Gender: Male
Race or Ethnicity: White
Sexual orientation: Straight
Occupation: Musician
Nationality: England
Executive summary: Composer, Tubular Bells
Mike Oldfield developed an interest in the guitar at a very young age, and by the age of ten was already formulating his own compositions for the instrument. He began to frequent folk clubs and perform in amateur bands to develop his skills, finally dropping out of school to pursue music full-time at the ripe old age of 14. His first professional band, Sallyangie, was formed with his sister Sally but lasted only long enough to release an album and a single between 1968 and 1969. After a short-lived band of his own, Oldfield joined up with Kevin Ayers, who was in the midst of getting a solo career underway after exiting Soft Machine; with Ayers he would record two albums and tour extensively, establishing a solid reputation as a musician of considerable skill. It was during this time that he began to work out ideas for a large-scale orchestral work, which would eventually evolve into his career-making composition Tubular Bells.
After assembling a rough demo of his piece (on which he performed all of the various instrumental roles himself) Oldfield began to shop the project around to record executives; it hardly fit into their notions of commercial viability, and was therefore repeatedly rejected despite the quality of the music. It wasn't until a session at the newly-built studio The Manor led to an introduction to future Virgin Records co-founders Richard Branson and Simon Draper that some hope presented itself: Draper offered Oldfield studio time at The Manor to begin the recording process and gathered the instruments needed to realize the music. After an arduous process that involved the recording of 20 different instruments and 2000 overdubs -- the majority performed by Oldfield -- Tubular Bells was released in 1973 by Virgin and immediately became a huge success. Its popularity was further broadened by the use of an excerpt in the popular horror film The Exorcist -- an association that went forward without Oldfield's approval and continues to be contentious point with the composer.
Tubular Bells was followed up by two more albums created in a similar fashion: Hergest Ridge (1974) and Ommadawn (1975). Both achieved a level of popularity comparable to the first record, but the inevitable backlash from the press was slowly creeping to the fore -- fueled in part by a general shift towards simpler forms of rock music and more specifically by Oldfield's unwillingness to talk to reporters. Between the two new works, an orchestral version of Tubular Bells was recorded and a series of related performances were staged around the U.K. On the recording, Oldfield himself was the principal soloist, while in the live versions Steve Hillage and later Andy Summers would assume guitar duties.
The pressures associated with his success gradually overwhelmed the composer, and between 1976 and 1978 Oldfield almost entirely retired from the music business. His next album after returning to action at the end of 1978, Incantations, fared less well than its predecessors, being somewhat out-of-place in the midst of the punk explosion. With its release, the composer broke with his earlier stand-offishness and spoke openly in interviews about both his work and his personal struggles. His subsequent releases began to shift towards more accessible, song-oriented material, occasionally featuring vocals by his sister Sally.
In 1979 Mike Oldfield undertook his first tour, joined by an ensemble of 50 musicians and over 20 technical crewmembers. The tour was a huge success with audiences and critics, but turned out to be a financial disaster; on the next tour the band would be scaled down to a far more manageable group of only 11. His recorded output during the 80s continued to explore more pop-oriented material (with the exception of his first venture into film scoring, 1984's The Killing Fields), a direction that was finally altered with his last two records for Virgin, Amarok and Heaven's Open. In 1992 Oldfield signed to Warner, his inaugural release for the label being Tubular Bells II, a return to his origins. A regular output of material has continued since, including 1994's Arthur C. Clarke-inspired Songs of Distant Earth -- the first instance of an audio CD featuring additional CD-ROM material.
Father: Dr. Raymond Henry Oldfield
Mother: Maureen Bernadine Liston
Brother: Terry Oldfield (composer)
Sister: Sally Oldfield (musician)

Risk Factors: Aviophobia

Do you know something we don't?
Submit a correction or make a comment about this profile

Copyright ©2019 Soylent Communications