Matt Groening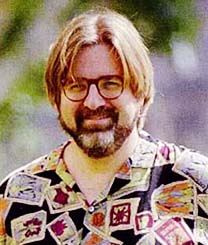 AKA Matthew Abram Groening
Born: 15-Feb-1954
Birthplace: Portland, OR

Gender: Male
Religion: Agnostic [1]
Race or Ethnicity: White
Sexual orientation: Straight
Occupation: Cartoonist
Party Affiliation: Democratic
Nationality: United States
Executive summary: Creator of The Simpsons
Matt Groening (rhymes with complaining, not moaning) is the creator of The Simpsons and the syndicated comic strip Life in Hell. He started drawing early: the characters Akbar and Jeff evolved from a failed grade-school attempt to draw Charlie Brown, and usually wore Charlie Brown's zigzag T-shirt. When he was 12, Groening took a Gideon Bible from a hotel and marked up all of the dirty bits. His scoutmaster was outraged that he had stolen the Bible, and he was thrown out of the troop. Groening says, "I prayed to God, and I said, 'I know you'll forgive me for not believing in you.'"
He attended Evergreen State College in Olympia, WA, a "hippie" school that didn't give grades or have a regular class schedule. Classmate and fellow cartoonist Lynda Barry remembers that when he was on deadline as editor of the campus paper, "He'd take this piece of wire and wrap it around his head so that there was an antenna sticking up, which was his signal that he didn't want to be disturbed."
Groening moved to Los Angeles following graduation, first working as a chauffeur and would-be biographer to an old rich man, then working at an alternative paper. When he moved on to a record store, he began selling Xeroxed zines of his cartoons, Life in Hell. Deborah Kaplan, who would later become his wife, marketed the comic, overseeing the comic's syndication and merchandising. After Life in Hell became a success, James L. Brooks invited Groening to create an animated television series, which became The Simpsons.
Set in a fictional Springfield that has a lot in common with Portland, OR, where Groening grew up, The Simpsons became the longest-running animated series in television history -- and the longest-running sitcom to remain consistently funny. Groening later created Futurama, an animated fantasy television show that was enormously successful by ordinary standards but didn't match The Simpsons' popular appeal or longevity. Although the ideas behind both shows are Groening's, he has stressed that other people did much of the creative work.
Fox executives were peeved when The Simpsons parodied Fox News by running a fake rolling ticker under an animated newscast, with headlines like "Do Democrats cause cancer?" The Simpsons team gambled that Rupert Murdoch wouldn't waste money suing himself, but the rolling news ticker is no longer allowed.
His father, Homer, was a "wildly creative" advertising agent, and co-founded the American Advertising Museum in Portland. Among his many ads, he directed the promotional trailer for the 1969 Tony Curtis comedy Those Daring Young Men In Their Jaunty Jalopies. He was also an amateur cartoonist, who would often draw the beginning of a story, then give the sketchpad to his children and let them finish.
---
[1] Groening grew up in a Methodist family. See Don Hamilton, "Matt Groening's Portland", The Portland Tribune, 19 July 2002. However, he now considers himself an agnostic. Quoting from the New York Times Magazine, 27 December 1998: "I was very disturbed when Jesus found a demon in a guy and he put the demon into a herd of pigs, then sent them off a cliff. What did the pigs do? I could never figure that out. It just seemed very unchristian. Technically, I'm an agnostic, but I definitely believe in hell -- especially after watching the fall TV schedule."

Father: Homer Groening (advertising executive, b. 30-Dec-1919, d. 15-Mar-1996)
Mother: Margaret Wiggum (b. 23-Mar-1919, d. 22-Apr-2013)
Brother: Mark Groening
Sister: Patricia Ann Groening ("Patty", art dealer, b. 27-Jan-1943, d. 24-Jan-2013 heart failure)
Sister: Lisa Groening (m. Craig Bartlett)
Sister: Margaret Groening ("Maggie", author)
Wife: M. Deborah Kaplan (publisher, m. 1987, div. 1999)
Son: Homer Groening (b. circa 1989)
Son: Abraham Groening (b. circa 1991)
Girlfriend: Lauren Francis (singer, dated 1999)
Wife: Agustina Picasso (artist, m. 2011)


High School: Lincoln High School, Portland, OR (1973)
University: Evergreen State College (1977)


The Rock Bottom Remainders Vocalist
Endorsement of Apple (1989)
Democratic Senatorial Campaign Committee
Gore 2000
John Kerry for President
Esalen Speaker
Reuben Award 2002


TELEVISION
The Simpsons
Futurama


FILMOGRAPHY AS ACTOR
The Devil and Daniel Johnston (2005) · Himself
Hair High (17-Apr-2004) [VOICE]
Comic Book: The Movie (27-Jan-2004) · Himself
Olive, the Other Reindeer (17-Dec-1999) [VOICE]





Requires Flash 7+ and Javascript.



Do you know something we don't?
Submit a correction or make a comment about this profile






Copyright ©2019 Soylent Communications