James F. Byrnes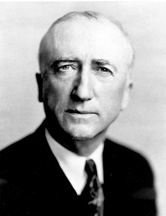 AKA James Francis Byrnes, Jr.
Born: 2-May-1882
Birthplace: Charleston, SC
Died: 9-Apr-1972
Location of death: Columbia, SC
Cause of death: unspecified
Remains: Buried, Trinity Cathedral Cemetery, Columbia, SC

Gender: Male
Religion: Anglican/Episcopalian
Race or Ethnicity: White
Sexual orientation: Straight
Occupation: Politician, Judge
Party Affiliation: Republican [1]
Nationality: United States
Executive summary: US Secretary of State, 1945-47
James F. Byrnes was elected to seven terms in the US House of Representatives as a Democrat, losing his seat in 1924 when his opponent smeared him for his refusal to join the Ku Klux Klan and, perhaps worse in his time and place, having been born into a Catholic family. Still, with the support of millionaire Bernard M. Baruch, he was elected to the Senate six years later, and despite his reputation as a fiscal conservative he became an ally of President Franklin D. Roosevelt and supported most aspects of the New Deal. As World War II loomed in Europe, Byrnes shepherded Roosevelt's legislative agenda through the Senate, including repeal of the Neutrality Acts, and in 1941 -- mere months before Pearl Harbor -- Roosevelt rewarded Byrnes with an appointment to the Supreme Court.
After only one term on the high court, Byrnes resigned to take what became an even more powerful post. Officially titled first as head of the wartime Office of Economic Stabilization, and then Director of the Office of War Mobilization and Reconversion, Byrnes' responsibilities were sometimes summarized as "President for domestic matters". He had effective control over virtually all wartime domestic matters from food rationing to wage controls, allowing Roosevelt to concentrate on prosecuting the war, and he was seriously considered for the Vice Presidential slot that went instead to Harry S. Truman. After Roosevelt's death, Byrnes was appointed Secretary of State by President Truman, and advocated the use of atomic weapons against Japan.
After leaving Washington, Byrnes was elected Governor of South Carolina, and in 1952 he became one of the first prominent Democratic officeholders to break with the Party over racial politics, endorsing the Republican Presidential candidate, Dwight D. Eisenhower. When the Supreme Court's 1954 ruling in Brown v. Board of Education outlawed "separate but equal" public schools, Gov Byrnes publicly called for "massive resistance" to integration. After leaving office he left the Democratic Party and re-registered as a Republican. He campaigned for Barry Goldwater in 1964, served as senior advisor to Richard M. Nixon's 1968 campaign, and helped implement the so-called "Southern strategy" that made the South solidly Republican in modern times.
---
[1] Held office as a Democrat, but became a prominent Republican Party leader in retirement.

Father: James Francis Byrnes (City Clerk of Charleston, SC)
Mother: Elizabeth E. McSweeney (seamstress)
Wife: Maude Busch Perkins Byrnes (m. 2-May-1906, no children)


Governor of South Carolina (1951-55)
US Secretary of State (1945-47, under Harry S. Truman)
US Official Director, Office of War Mobilization and Reconversion (1943-45)
US Official Director, Office of Economic Stabilization (1942-43)
US Supreme Court Justice (1941-42, resigned)
US Senator, South Carolina (1931-41)
US Congressman, South Carolina 2nd (1917-25)
US Congressman, South Carolina 7th (1915-17)
US Congressman, South Carolina 2nd (1911-15)
South Carolina State Official Solicitor, 2nd Circuit of South Carolina (1908-10)
Alfalfa Club
Freemasonry
Knights of Pythias
Shriners
South Carolina Bar 1903
Time Person of the Year 1946
Alfalfa Party candidate for US President
South Carolina Hall of Fame 1982
Converted to Anglicanism Episcopalian, formerly Catholic (1906)
Traveled to the USSR Dec-1945
Irish Ancestry Maternal


Author of books:
All in One Lifetime (1958)





Requires Flash 7+ and Javascript.



Do you know something we don't?
Submit a correction or make a comment about this profile






Copyright ©2019 Soylent Communications