Jacques Offenbach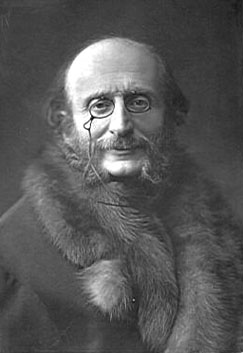 AKA Jacob Offenbach
Born: 20-Jun-1819
Birthplace: Cologne, Germany
Died: 5-Oct-1880
Location of death: Paris, France
Cause of death: unspecified
Remains: Buried, Cimetière de Montmartre, Paris, France

Gender: Male
Religion: Roman Catholic
Race or Ethnicity: White
Sexual orientation: Straight
Occupation: Composer
Nationality: France
Executive summary: Inventor of the the opérette
French composer of opéra bouffe, born at Cologne of German Jewish parents, on the 21st of June 1819. His talent for music was developed at a very early age; and in 1833 he was sent to Paris to study the violoncello at the Conservatoire, where, under the care of Professor Vaslin, he became a fairly good performer. In 1834 he became a member of the orchestra of the Opéra Comique; and he turned his opportunities to good account, so that eventually he was made conductor at the Theatre Français. There, in 1848, he made his first success as a composer in the Chanson de Fortunio in Alfred de Musset's play Le Chandelier. From this time forward his life became a ceaseless struggle for the attainment of popularity. His power of production was apparently inexhaustible. His first complete work, Pepito, was produced at the Opéra Comique in 1853. This was followed by a crowd of dramatic pieces of a light character, which daily gained in favor with Parisian audiences, and eventually effected a complete revolution in the popular taste of the period.
Encouraged by these early successes, Offenbach boldly undertook the delicate task of entirely remodelling both the form and the style of the light musical pieces which had so long been welcomed with acclamation by the frequenters of the smaller theaters in Paris. With this purpose in view he obtained a lease of the Theatre Comte in the Passage Choiseul, reopened it in 1855 under the title of the Bouffes Parisiens, and night after night attracted crowded audiences by a succession of brilliant, humorous trifles. Ludovic Halévy, the librettist, was associated with him from the first, but still more after 1860, when Halévy obtained Henri Meilhac's collaboration. Beginning with Les Deux Aveugles and Le Violoneux, the series of Offenbach's operettas was rapidly continued, until in 1867 its triumph culminated in La Grande Duchesse de Gérolstein, perhaps the most popular opera bouffe that ever was written, not excepting even his Orphée aux Enfers, produced in 1858.
From this time forward the success of Offenbach's pieces became an absolute certainty, and the new form of opéra bouffe, which he had gradually endowed with as much consistency as it was capable of assuming, was accepted as the only one worth cultivating. It found imitators in Lecocq and other aspirants of a younger generation, and Offenbach's works found their way to every town in Europe in which a theater existed. Tuneful, upbeat and exhilarating, their want of refinement formed no obstacle to their popularity, and perhaps even contributed to it. In 1866 his own connection with the Bouffes Parisiens ceased, and he wrote for various theaters. In twenty-five years Offenbach produced no less than sixty-nine complete dramatic works, some of which were in three or even in four acts. Among the latest of these were Le Docteur Ox, founded on a story by Jules Verne, and La Boîte au Lait, both produced in 1877, and Madame Favart (1879). Offenbach died at Paris on the 5th of October 1880.
Father: Isaac Juda Eberst (cantor at Cologne Synagogue)
Wife: Herminie d'Alcain (m. 1844)

University: Paris Conservatoire (1833-)

Converted to Catholicism 1840s (from Judaism)
Jewish Ancestry

Do you know something we don't?
Submit a correction or make a comment about this profile

Copyright ©2019 Soylent Communications